Weather of Arabia - We hear many stories about mountaineers who have succeeded in reaching the highest peaks such as Everest, Kilimanjaro, Denali, and others. Although striving to climb the peaks is not a bad thing, there is something to look at beneath these peaks as well.
A report on CNN reviewed low-lying areas in the world, some of which are characterized by a strange history, and others are distinguished by their healing waters and strange forms, and these are 10 of the lowest parts of the earth:
1. Dead Sea - Jordan/Palestine: 431 meters below sea level

The lowest point on Earth is one of the most beautiful and salty bodies of water, and the turquoise waters of the Dead Sea have long attracted many tourists for their healing properties. Although fish cannot live in the Dead Sea, bacteria, algae, and 80 types of fungi can survive in the environment it provides.
To visit the Dead Sea, the lowest point on earth, details here
2. Lake Tiberias - Palestine: 209 meters below sea level

Lake Tiberias (or Sea of Galilee), the lowest freshwater lake in the world, abounds with hot springs that provide water for seaside spas. Humans settled in this area 400,000 years ago because of its beautiful climate, fertile soil, and abundant water.
Today, farmers grow dates, vegetables and citrus in it, while fishermen extract sardines, catfish and tilapia from the sea.
3. Lake Assal - Djibouti: 157 meters below sea level

This lake, which is located inside a dormant desert volcano, gives the impression that it welcomes visitors. From afar, its sparkling turquoise waters and white beaches look alluring. However, to reach it, you must pass through a lake known as Devils' Pit, and a strangely shaped volcanic neck. The salinity of the lake is 10 times that of the ocean, so the lake leaves an oily residue on those who enter it.
4. Lake "Aiding" - China: 155 meters below sea level

This lake is the lowest point in China, and its meaning in the Uighur language translates to "moonlight lake", and it is located in the Xinjiang Autonomous Region. This lake attracts many curious tourists, both from China and abroad, due to its proximity to what is referred to as the "Burning Mountains", one of the most famous grape-growing areas in China, and other attractive places.
5. Qattara Depression - Egypt: 133 meters below sea level

This depression is a huge stream in northwest Egypt. It was called "Al Qattara" in reference to the few important oases that dot the desert landscape of the region. Some oases provide habitats for rare leopards that hunt deer.
The soft, spongy interior of the stream helped the Allied forces defeat German tanks during World War II.
6. Karagiye Trench - Kazakhstan: 132 meters below sea level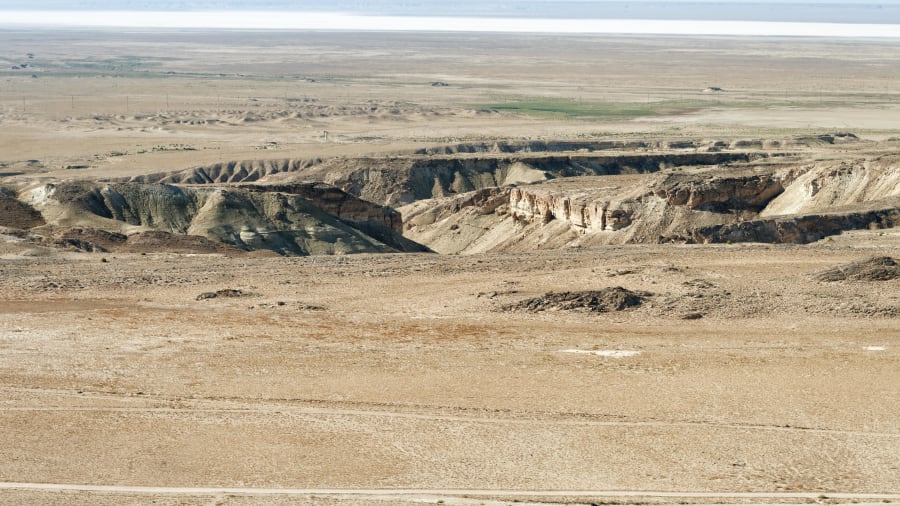 Formed by the collapse of limestone caves near the Caspian Sea, this trench is characterized by a river flowing from an underground spring into a crater. Strangely enough, it forms its own rain clouds due to its peculiar geological and hydrological characteristics.
The name of this trench translates to "black mouth", and some people who explored the place say they were in a gloomy mood, and they suffered from headaches, nausea, and anxiety, but others felt peace and joy while they were there.
7. Danakil Depression, Ethiopia: 125 meters below sea level

The Danakil Depression is one of the most dangerous places on Earth. The volcanic nature of the place releases sulfuric acid, and it also emits toxic gases, and it excretes hot oil. You can book tours to explore this deep and hot spot, which was created by the deflection of 3 tectonic plates.
8. Laguna del Carbon - in Argentina: 105 meters below sea level
It's easy to get to this place, which is referred to as "Coal Lake", as it is located 30 miles by car from Puerto San Julian. Scientists did not measure its dimensions until a few decades ago when it overcame the "Valley of Death" in the United States as the lowest point in the Western Hemisphere.
9. Death Valley - United States: 86 meters below sea level

Death Valley in California is an impressive sight, with salt flats close to it, and the Panamint Mountains more than 10,000 feet high.
And beware of the summer heat when visiting this valley, as the highest temperature ever recorded was recorded at 134 degrees Fahrenheit.
10. Turan Depression - Turkmenistan: 81 meters below sea level
The Turan Depression is located in a salt basin called "Vpadina Akchanaya" with a wildlife sanctuary dedicated to protecting animals such as deer, mountain goats, and others. However, the Darvaza crater, known as the "Gate of Hell", is the main attraction of the region.
The crater is a gas field that collapsed into a huge crater in the 1960s. For fear of a deadly methane buildup, geologists set the crater on fire. Geologists expected the fire to last for several weeks, but the crater remained a glowing crater to this day.
For more: The "Gate of Hell" is a pit that has been burning for decades in Turkmenistan, and the time has come to extinguish it by order of the country's president
This article was written originally in Arabic and is translated using a 3rd party automated service. ArabiaWeather is not responsible for any grammatical errors whatsoever.