Weather of Arabia - Moaz Shakour - Several Arab countries will witness a total eclipse in the year 2027, and among these countries are Saudi Arabia, Yemen and Somalia
However, the total eclipse that will follow on March 20, 2034 will be completely restricted to 4 Arab countries, namely Kuwait, Saudi Arabia, Egypt and Sudan in narrow geographic ranges within these countries.
The following is the form of the total eclipse and its calculations in selected regions of these countries:
The areas of southern Kuwait will witness a total eclipse of 100%, within areas such as Mubarak Al-Kabeer Governorate and Al-Ahmadi Governorate. As for the capital, Kuwait, the percentage of the eclipse will be less and reach 99%, and in the picture we see the shape of the eclipse as it will appear from Al-Ahmadi Governorate with the dates to start and end.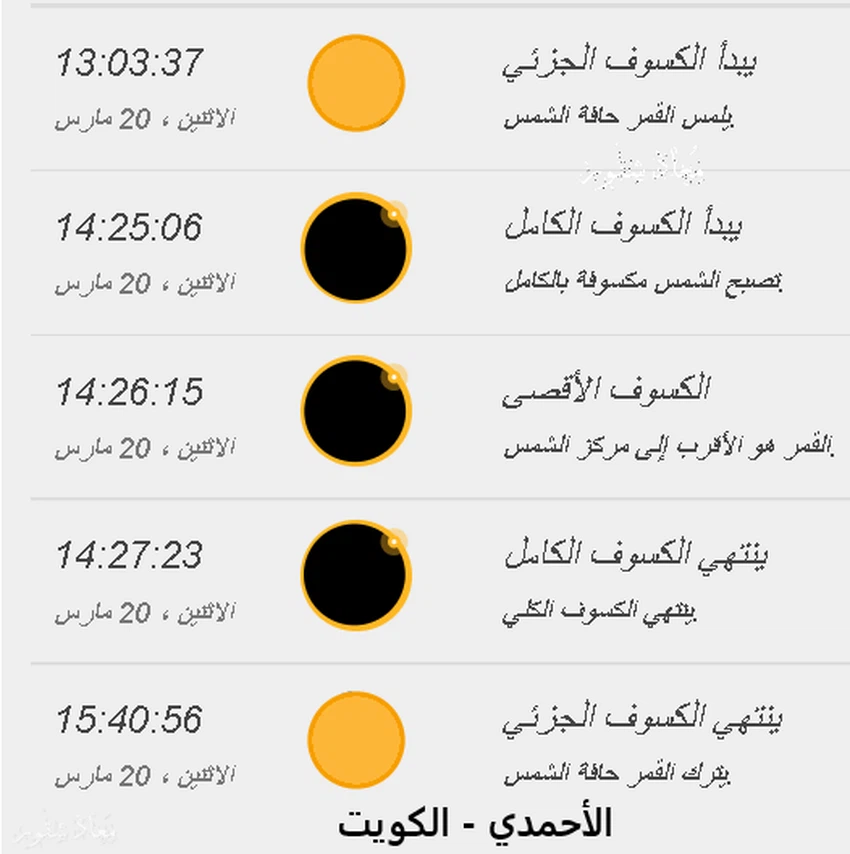 This total eclipse in Saudi Arabia will extend from the eastern band to the western band within a belt, as shown in the picture within the governorates of the Eastern Province, Qassim, Hail, Madinah and Tabuk: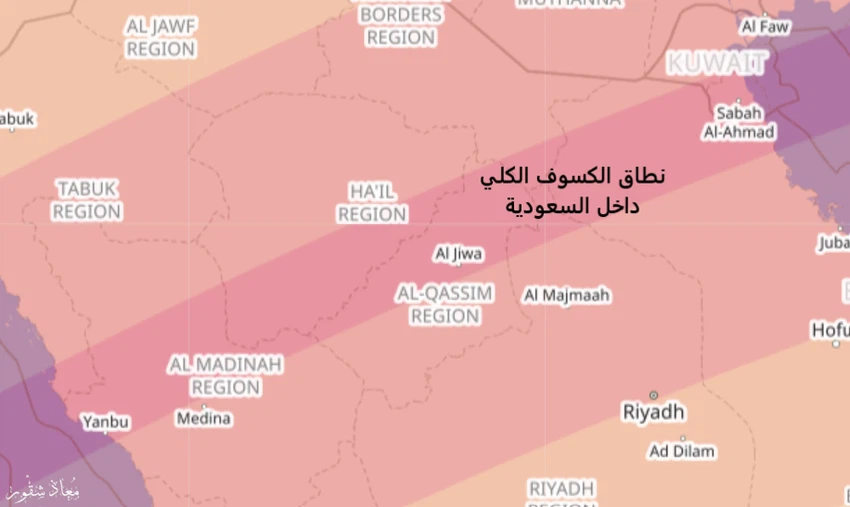 The following is a picture of the eclipse and the start and end dates as it will appear from the city of Yanbu on the Red Sea coast: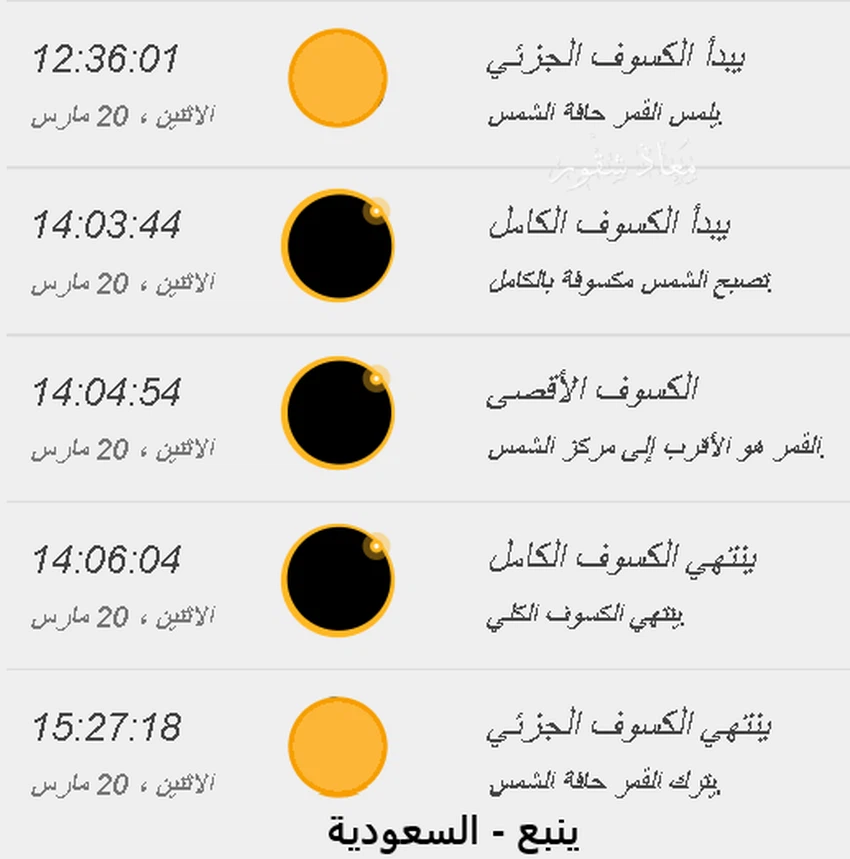 Moving to the African continent, only two Arab countries will witness this total eclipse in 2034, namely Egypt and Sudan, and Egypt will witness it in a narrow geographical range to the south in the Red Sea and Aswan governorates, while in Sudan, the total eclipse belt will extend within several states such as the Nile River State and the state North and North Darfur State
In the picture below, the eclipse dates from Ras Banas, southern Egypt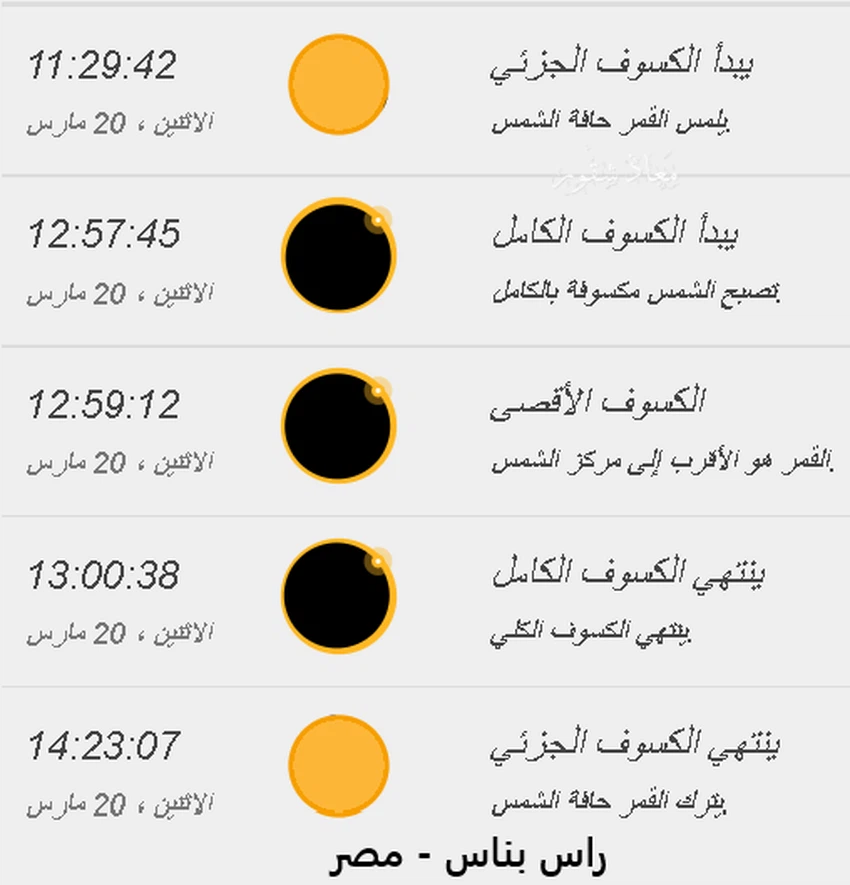 Details of the eclipse as it appears from Ibri, northern Sudan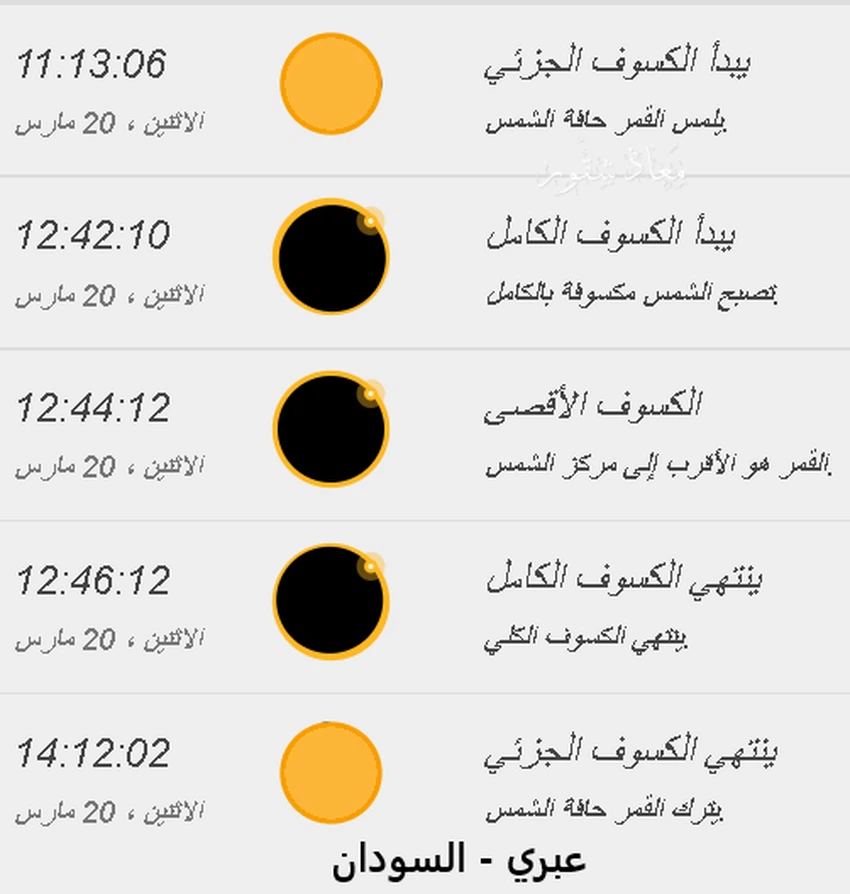 Author: Moaz Shakour
ArabiaWeather Company is not responsible for the material displayed or published in ArabiaWeather Blogs, and bloggers are therefore fully responsible for their writings.

ArabiaWeather Company shall not be responsible for any republication. The materials published in the "Arabia Weather Blogs" in the various media, which puts anyone who publishes these blogs in the name of the Arabia Weather or quoting the Arabia Weather under liability and legal accountability.
This article was written originally in Arabic and is translated using a 3rd party automated service. ArabiaWeather is not responsible for any grammatical errors whatsoever.