Arab Weather - Air pollution is no longer limited to sources outside the home, with the spread of manufactured products, we are exposed to more health risks resulting from components we inhale with the air inside our homes, starting with smoke, chemicals emitted from new furniture, perfumes, air fresheners, candles, and paints. And cleaning products, all known as volatile organic compounds (VOCs), to dust mites that live in our beds, mold spores, and dander from pets, all cause allergic reactions, not to mention airborne viruses.
If you live in crowded cities, you are exposed to outdoor air pollutants from factories, vehicles and other sources. Knowing the air quality index in your area can help you understand how much air quality is where you live, as well as learn about the consequences and causes of poor air quality. Health complications including eye, nose and throat irritation, as well as headaches and fatigue. If you need healthy air in your home.
For more: What does the Air Quality Index (AQI) mean...and what does it help?
Improving indoor air quality greatly affects our quality of life as more than 90% of our lives are spent indoors, so an air purifier filters the air and raises its air quality through microscopic filters that trap allergens.
Here are 6 benefits you get when you use home air purifiers:
1. Dilute allergens in the air
Air purifiers incorporate HEPA (High Efficiency Particulate Air) filters which are highly effective particulate air filters, trapping approximately 99.97% of air pollutants down to 0.3 microns in size, reducing allergens in the environment.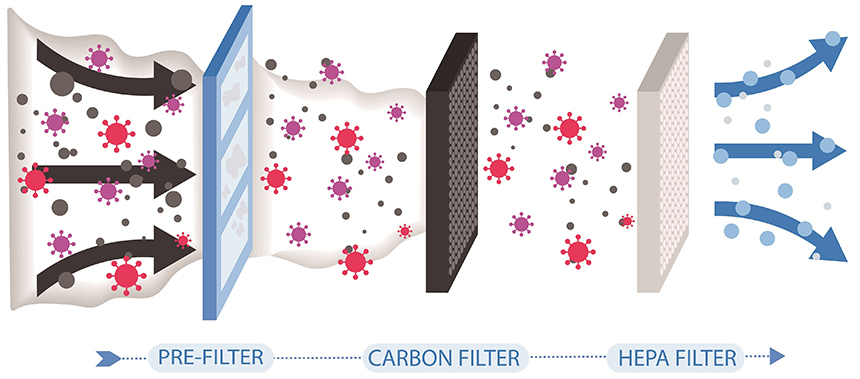 A study published in the Yonsei Medical Journal found that air purifiers significantly reduced the use of medications in those with respiratory symptoms caused by allergies. Placing an air purifier in the room where you sleep or work can help relieve allergy symptoms or fever. straws, but you need to take into account the size of the room and the movement in and out of it in order for the device to operate more effectively.
2. It filters harmful chemicals
A study published in the journal Environmental Health Perspectives reports that living in highly polluted areas, such as near a major road or airport, has been associated with worsening respiratory problems and infectious diseases. An air purifier can help deal with a number of indoor air pollutants, as it works by circulating polluted air through multiple filters and releasing clean air back into the room. If you use chemical cleaners or have appliances in your home that release ozone or other pollutants, an air purifier may help reduce the amount of these pollutants you breathe in.
3. Helps to get rid of dust and pet dander
Dust and microbial pollutants such as mold spores or airborne bacteria, tobacco smoke, pesticides, disinfectants and pet dander all have the potential to irritate our respiratory system. Dust allergies and dust mites are also a major cause of asthma attacks.
Pet dander is another major trigger for symptoms in people with asthma and allergies. According to a study in Allergy and Asthma Proceedings , most dust particles are 5 microns or less in size, which is within the range of HEPA filters, and most animal dander is PET is smaller, around 2.5 microns in size, but again, it's also within the capabilities of a HEPA filter to handle.
4. Helps remove mold fungi from the air
The airborne "seeds" that mold fungi produce in order to spread, known as spores, can be captured by air purifiers. Research at Plos Pathogens indicates that mold spores can be very small (about 4 microns), which means that having an air purifier with HEPA filters in your home reduces the amount of mold spores in the air.
An air filtration system can also help prevent further mold in your home by trapping germs before they land on surfaces and spread.
5. Reducing asthma symptoms
Airborne pollutants such as smoke, pollen and dust can trigger asthma attacks, which can be severe and even fatal, especially in children. If you have asthma symptoms, an air purifier may help you manage the air quality in your home so that you can limit your exposure to these pollutants.
It's worth noting that the Environmental Protection Agency recommends avoiding air filters that produce ozone, as this irritates the lungs and can exacerbate asthma symptoms.
6. Reduce the incidence of airborne diseases
According to a study published in Clinical Infectious Diseases , researchers found that by running a HEPA filter in a COVID-19 patient care department, airborne coronavirus was significantly reduced, while evidence of the virus was revealed before and after using the air filter, but not during.
This, in addition to significantly reducing levels of bacteria, fungi, and other viral bio-sprays, means that an air purifier may reduce the risk of airborne infections, but will not prevent it completely.
While an air purifier is a useful tool, other steps must be taken to keep indoor air clean. To improve indoor air quality in the home, the home must be well ventilated for the air purifier to function properly.
You may also be interested in: Top 5 Indoor Plants to Purify Air Indoors
This article was written originally in Arabic and is translated using a 3rd party automated service. ArabiaWeather is not responsible for any grammatical errors whatsoever.