Arab Weather - 8 Arab cities, all from one country, occupied the list of the 10 most high temperatures recorded during the past 24 hours, according to the EldoradoWeather website.
The eight Arab cities came from Kuwait, while the list included two cities located in Iran. The highest temperature in the world was recorded in Al-Jahra, Kuwait, where the temperature reached 52.7 degrees Celsius.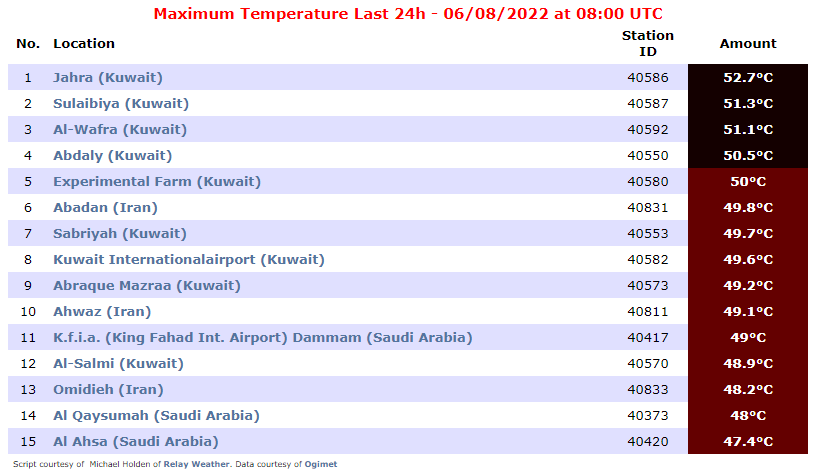 The city of Sulaibiya came in second with a temperature of 51.3 degrees Celsius, and Wafra ranked third at 50.1 degrees Celsius, followed by Al Abdali in the fourth place with a temperature of 50.5 degrees Celsius, and the experimental farm area ranked fifth by about 50 degrees.
The city of Ibadan in Iran ranked sixth, with a maximum temperature of 49.8, followed by a temperature of 49.6 degrees Celsius at Kuwait International Airport.
Scientifically, the reason for the significant rise in temperatures witnessed in the cities of Kuwait is due to the extension of the so-called India seasonal thermal depression through the lower atmosphere layers of the atmosphere, which is associated with a very hot air mass with a flaming center located over northeastern Saudi Arabia, Kuwait and southern Iraq, pushing hot winds Very towards those areas worked, along with the geography of the region, to raise temperatures to record levels.
As for if you were curious to wonder about the lowest temperature recorded in the world during the past 24 hours, it was in Antarctica, at 67.5 degrees below zero degrees Celsius.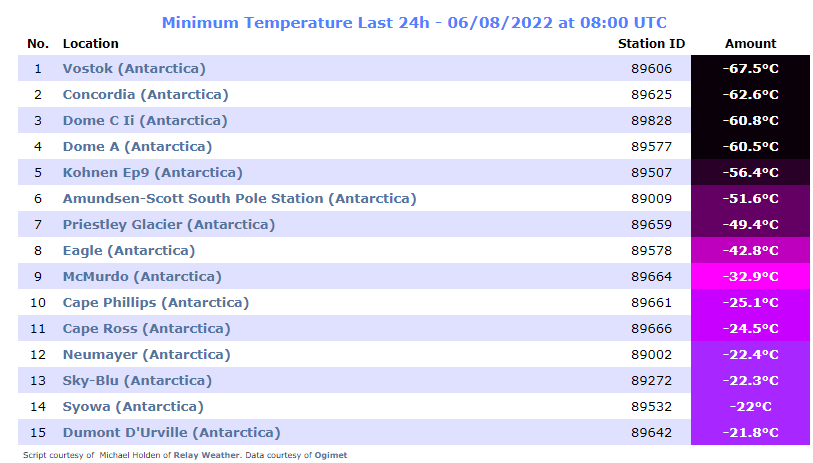 Read also: 12 points reveal the differences and similarities between the North Pole and the South Pole of the Earth
This article was written originally in Arabic and is translated using a 3rd party automated service. ArabiaWeather is not responsible for any grammatical errors whatsoever.