Arab weather - Drowning is fast and silent and can happen even without swimming time. Children drowning accidents can occur even in families where parents provide all the care and attention to children.
It is estimated that 236,000 people drown every year, and drowning is one of the ten leading causes of death among children and adolescents aged 1-24 years. Therefore, the United Nations General Assembly designated 25 July of each year as World Drowning Prevention Day, and this aims The global advocacy event to provide an opportunity to highlight the profoundly tragic impact of drowning on families and communities, and to provide life-saving preventive solutions.
And because most families spend the summer near beaches and swimming pools, drowning incidents among children are frequent if preventive measures are not taken, and the following are 8 recommendations to avoid child drowning accidents, especially in the summer:
Install a barrier around the pools: The biggest danger is that there are no barriers to prevent access to the water. If you have a pool in the house, you must attach it completely to a fence that is 4 feet high on all sides, separating it from the house and yard. The fence shall have self-closing and self-locking doors.
Remove toys from swimming pools after playing : It is always recommended to remove all toys from the water after playing with them, so that the child does not fall when trying to reach them.
Empty the inflatable pool of water after each use.
Keep safety equipment by the pool and abide by the instructions : such as always making the buoy at hand, and keeping a phone by the pool to report cases of drowning. When going to rest, make sure that there are safety measures and review the instructions with the child and make sure that he understands them.
Beware of drains in the pool : Be sure to teach your children not to play or swim near sewers or suction outlets, as they can pull the child into the water.
Ensure that adults are practicing swimming with children in the pool.
Learn Swimming Survival Skills: Swimming lessons are recommended for children from 1 year of age. The swimming program must ensure that children acquire basic skills in water safety. Children should also learn how to stand in the water, stay on the beach or near the edge of the pool.
Wear a life jacket : It is recommended that children always wear life jackets when boating or near water bodies, whether or not they know how to swim.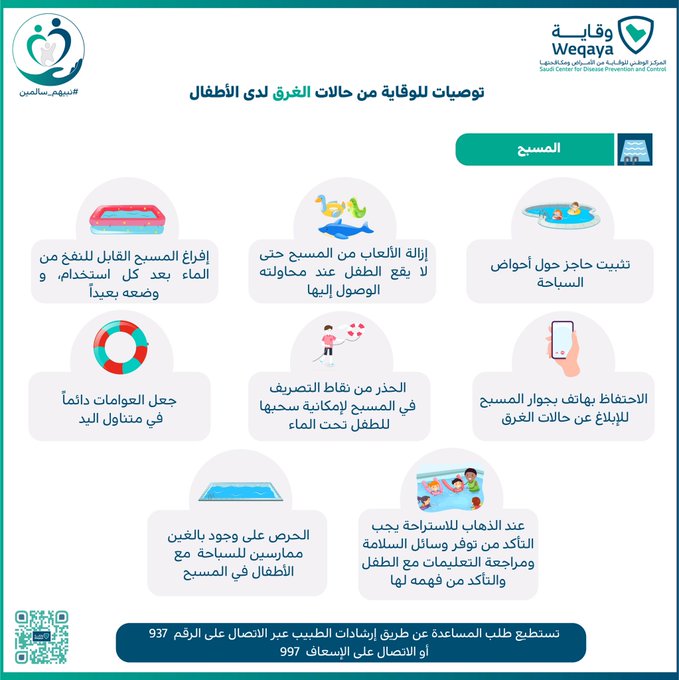 You may also be interested in: Video | Watch how to save yourself from drowning?
This article was written originally in Arabic and is translated using a 3rd party automated service. ArabiaWeather is not responsible for any grammatical errors whatsoever.