Weather of Arabia - In a recent scientific study conducted by a group of researchers in cooperation with the Regional Arab Weather Center, it was published in the International Journal of Scientific and Technical Research in Engineering to identify the probability of occurrence and recurrence rates of hurricanes and tropical conditions and their degrees in the Arabian Sea and the northern Indian Ocean The researchers analyzed data over the past 40 years for all tropical conditions that affected the study area.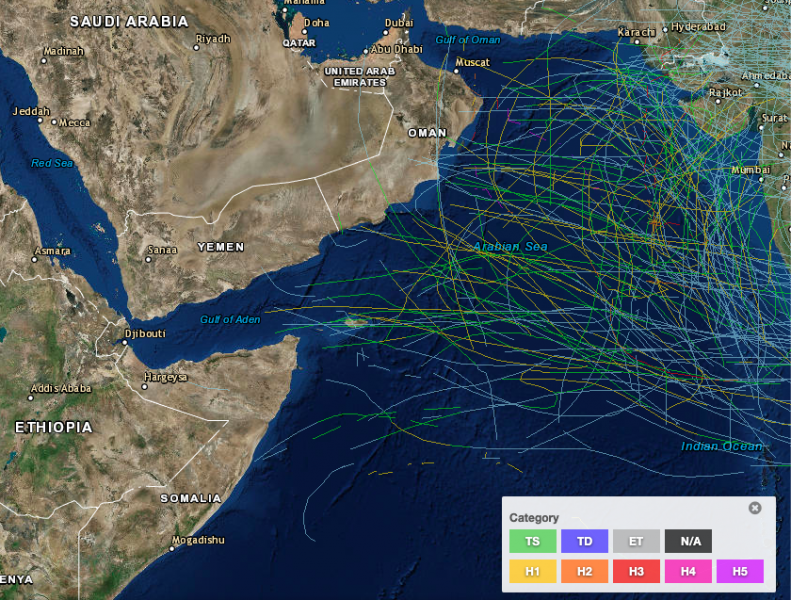 Where the researcher, Yahya bin Ali Al-Daghriri, among the research team, explained that the scientific team calculated the average results for the upper readings of the annual hurricanes that occurred in the Arabian Sea and the northern Indian Ocean, and selected the highest wind speed reading around the center of the hurricane from all tropical cases represented in hurricanes and tropical storms. During the study period (40) past years, in order to identify the classification of hurricanes and the time period expected to occur for each degree of hurricane in it, in addition to identifying the number and times of occurrence of tropical conditions and the possibility of their recurrence in the future for each degree of hurricanes classified on the scale of degrees of hurricanes Saffir-Simpson Saffir-Simpson"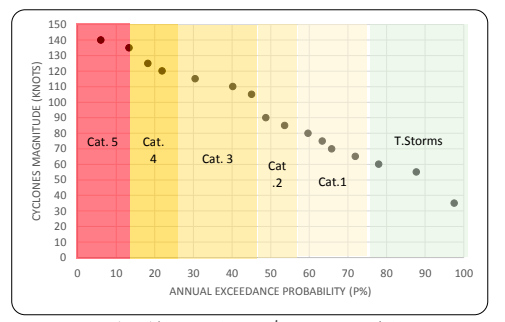 The graph in Figure (1) shows the results of the analysis of "the probability of hurricanes occurring according to their classification by wind speed around the center of the hurricane according to the Saffir-Simpson scale."
The study concluded that the annual probabilities of the occurrence of hurricanes according to their classification category, for example: the possibility of the occurrence of a cat5 hurricane in each year is 0-13.4%, and similarly the probability of the occurrence of a hurricane of the first category Cat 1 in each year is limited to -96% 78 .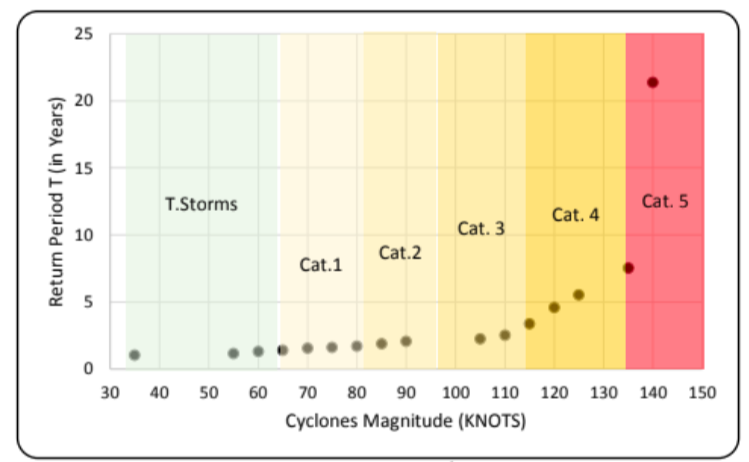 The chart shows in Figure ( 2 ) the categories and degrees of hurricanes and the number of times they recur in the form of linear points
The researchers concluded that the frequency of Category 5 Cat5 hurricanes is approximately every 7.5 years, while the frequency of Category 1 Cat 1 hurricanes is about 1.28 per year .
To view the details of the published scientific study ( click here )
This article was written originally in Arabic and is translated using a 3rd party automated service. ArabiaWeather is not responsible for any grammatical errors whatsoever.