Weather of Arabia - On January 22, 2023, the "Jingtao" region in northern China recorded the lowest temperature recorded in China's climate records by -53.0 degrees Celsius, exceeding the record recorded since February 13, 1969 by -52.3 degrees Celsius.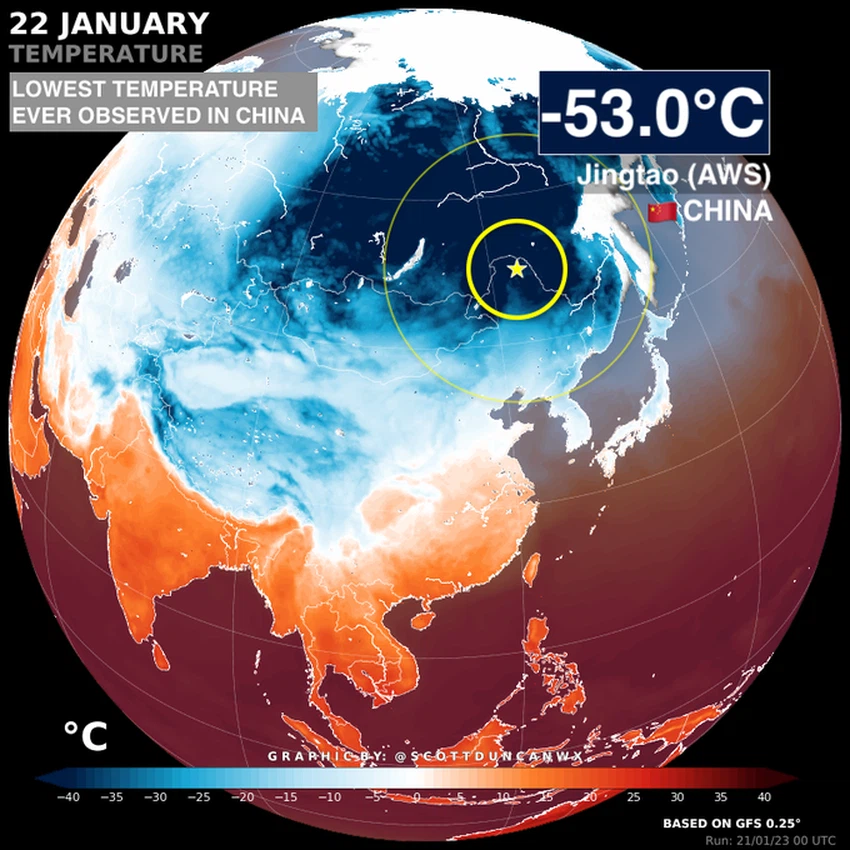 Temperatures fell in China until a total of 18 meteorological stations recorded temperatures around -50 degrees Celsius.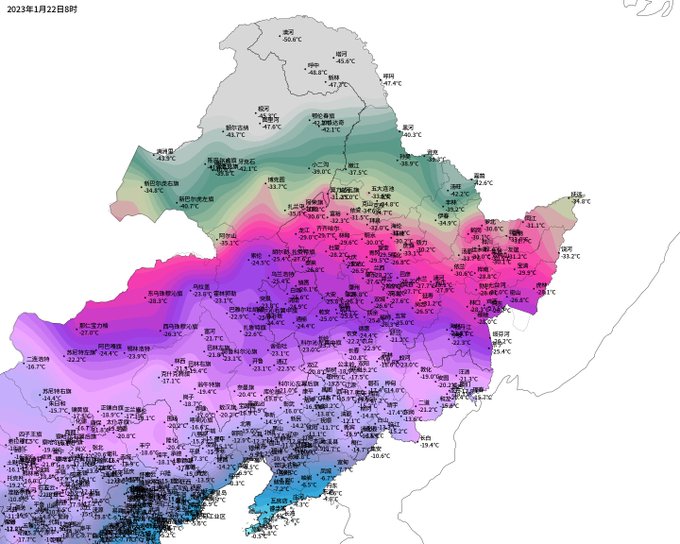 What is the scientific reason behind the lowest temperature recorded in China's climate records?
The weather forecast staff at the Arab Regional Weather Center believes that the scientific reason behind China recording the lowest temperature in the climatic records is as a result of China's vulnerability, especially the northern parts of it, to very cold and very dry Siberian winds because it does not pass over bodies of water.
Where the winds from Siberia maintained their bitter cold, and the same cold winds were accompanied by high surface atmospheric pressure values due to the cold and dry air.
Is this considered a harbinger of climatic changes occurring in the region?
In order to answer this question, we must define climate change. Climate change means long-term shifts in temperatures and weather patterns, according to the United Nations. These shifts may be natural and occur, for example, through changes in the solar cycle.
However, since the nineteenth century, human activities have become the main cause of climate change, mainly due to the burning of fossil fuels, such as coal, oil and gas, which led to the emission of large amounts of greenhouse gases, the most important of which is carbon dioxide.
By defining climate change, we see in the staff of weather forecasts at the Arab Regional Weather Center that the unusual weather events that have occurred recently cannot be described as climate changes, unless they occur over several consecutive years.
God knows
This article was written originally in Arabic and is translated using a 3rd party automated service. ArabiaWeather is not responsible for any grammatical errors whatsoever.