Weather of Arabia - A severe winter storm hit parts of the United States and Canada in conjunction with the holidays and holidays season, which disrupted many aspects of life and air traffic and cut off electricity for more than 1.5 million people, and caused at least 17 deaths, most of them in traffic accidents.
In South Dakota, emergency manager Robert Oliver said workers were trying to clear roads that had about 10 feet (3 meters) of snow in some areas with not enough equipment available, and in one case the rescue of stranded people had to stop. They are stranded in their homes as the hydraulic fluid in heavy equipment froze.
Some in South Dakota resorted to burning clothes to keep warm after running out of fuel and getting trapped in massive snowdrifts.
The massive storm stretches 2,000 miles (3,200 km) from Texas to Maine, and the National Weather Service (NWS) said the map extent of areas covered by weather warnings on Friday was the largest ever recorded, with more than 200 million people - about 60% of the population - affected. United States - for some form of weather warning.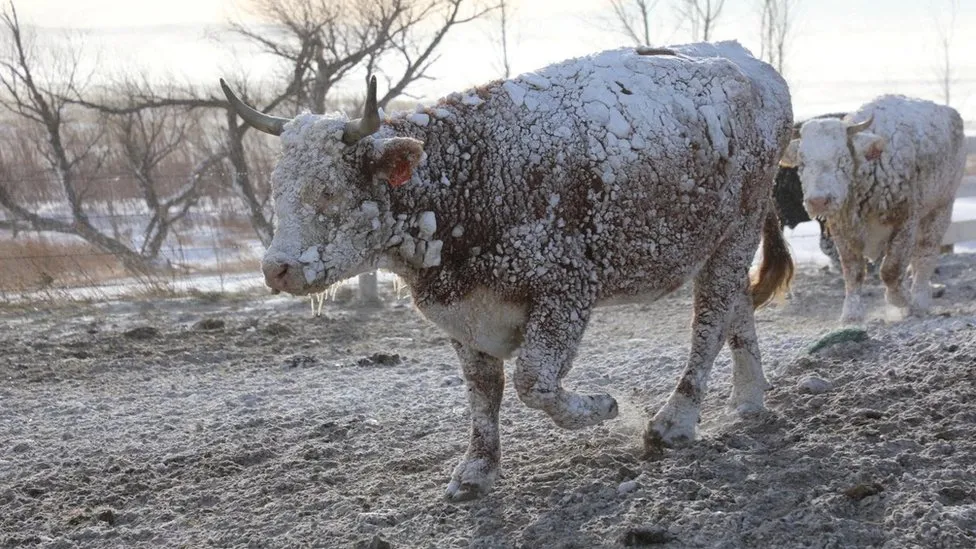 (Cows walking in the snow after a blizzard in Sturgis, South Dakota)
In Canada, Ontario and Quebec were the areas most affected by the storm, with power outages for hundreds of thousands.
Coastal flooding was seen in several US regions - New England, New York and New Jersey.
And in the Pacific Northwest, some residents were seen skating on frozen streets in Seattle and Portland. Even the normally milder southern states like Louisiana, Alabama, Florida and Georgia have been given severe freeze warnings.
More than 8,000 flights were canceled on Friday, tracking website FlightAware reported, creating more travel chaos as travelers struggle to get home for Christmas.
In anticipation of the travel disruptions, major airlines including United, Delta and American have offered to waive fees for travelers who want to reschedule their flights.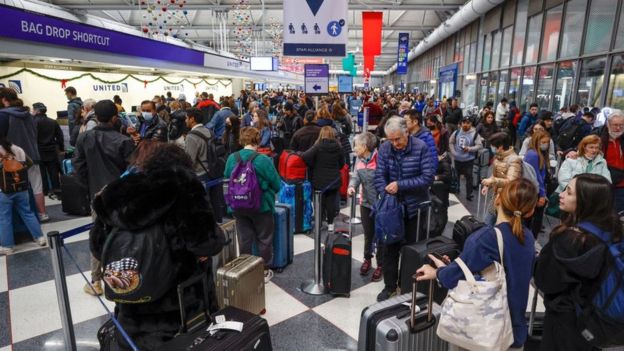 Record numbers
Temperatures in Elk Park, Montana, USA, dropped to (-45 degrees Celsius).
Temperatures in Denver (Colorado) dropped to -24F on Thursday, the lowest on record since the 1990s.
Cheyenne, Wyoming, set a record for the largest one-hour drop in temperature, after going from 43 degrees Fahrenheit to 3 degrees Fahrenheit in the space of 30 minutes. Elsewhere in the state, temperatures dropped to -35 degrees Fahrenheit
Neighboring Montana recorded a temperature drop of nearly 12 degrees
Wichita, Kansas, has had the coldest wind chill (-32 Fahrenheit) since 2000
Nashville, Tennessee, saw temperatures drop below freezing for the first time in 26 years
Declare a state of emergency
New York State Governor Kathy Hochul declared a state of emergency in anticipation of the storm, saying the threat of flooding and ice jams "will wreak a lot of havoc on our society." Ice jams occur when large chunks of ice block the flow of a river and can cause floods.
The governors of Kentucky, North Carolina, West Virginia, Georgia and Oklahoma also declared states of emergency, while Wisconsin declared an "energy emergency".
Ohio Governor Mike DeWine called the weather a "unique and dangerous situation," especially as people travel to be with family and friends this Christmas.
Florida is expected to experience the coldest Christmas in 30 years.
In Chicago, a winter storm warning is in effect through Saturday, bringing heavy snow and winds of up to 50 miles per hour.
(scenes of blizzard and freezing cold)
How long will the severe cold wave last? Arab weather answers
According to forecasters at the Arab Regional Weather Center, North America in general and Canada in particular is witnessing a cold polar wave as a result of the rush of a polar air mass with a record cooling, and it is expected in the coming days that the effect of the cold and very dry polar wave will continue on North America, including Canada, amid historical temperatures touching the 50 Below zero degrees Celsius, especially in the northern parts.
It is expected that the effects of the cold polar wave will continue and extend towards the southern states of North America, and then the polar air will reach the states bordering the Gulf of Mexico. During the control of the polar winds, the coastal areas in the Gulf of Mexico will record negative temperatures, which is very surprising.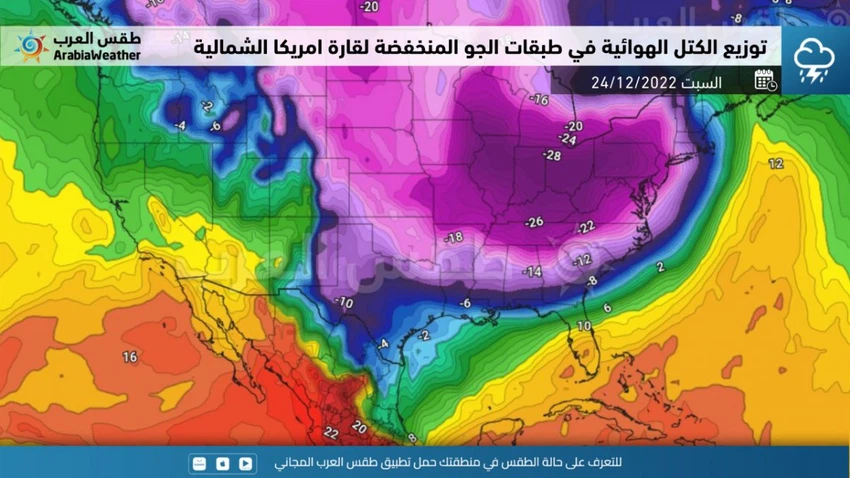 This article was written originally in Arabic and is translated using a 3rd party automated service. ArabiaWeather is not responsible for any grammatical errors whatsoever.