Arab Weather - The results of the latest analysis of weather maps through the Badr system developed by Arab Weather showed expectations that parts of South Asia will continue to be affected by a strong and exhausting heat wave represented by the Republic of Pakistan and northern India, after which temperatures in some areas exceed 50 degrees Celsius.
Heat waves have continued in South Asia since last March
A strong, exhausting and long heat wave and record temperatures in some areas
In the details, the countries of India and Pakistan have been at the forefront of weather events since last March, when some regions recorded a barrier of 47 degrees Celsius, and at the time, the Indian Meteorology said that the hot wave affecting the beginning of last March was the strongest and most severe in 122 years for the same month. . Records are still being recorded in those regions, the last of which was on Friday 13-5-2022, when the temperature in the Jacobabad region in the Pakistani province of Sindh exceeded 50 degrees Celsius, as the first fifty-year heat in the northern part of the globe this season.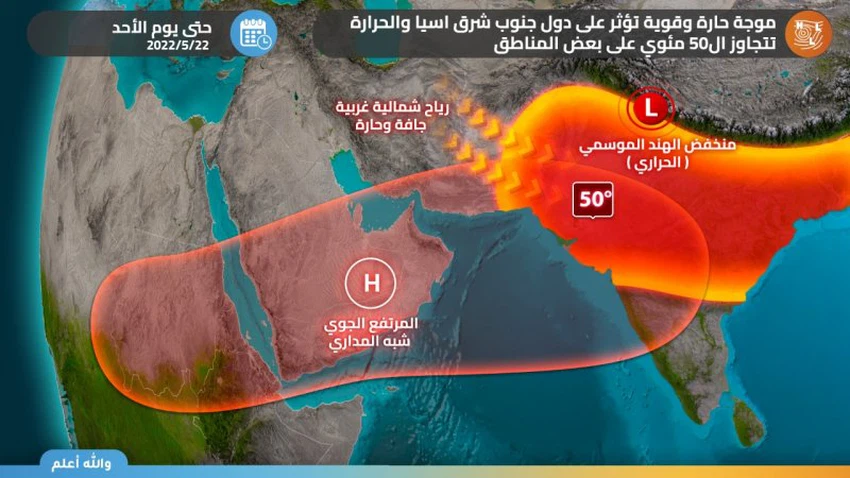 Forecasters in Arab weather said that computer modeling indicators indicate expectations that the long and exhausting heat wave will continue to affect those areas, amid an additional intensification of the heat wave during the weekend, so that temperatures will exceed 50 degrees Celsius again in parts of Pakistan and northern India, God willing.
The weather conditions responsible for the formation of this heat wave, God willing
As for the scientific reasons, specialists in Arab weather indicated that Pakistan and northern India are under the influence of the so-called semi-tropical air rise. This upper air rise works, God willing, by rebounding air currents rising from the surface of the earth, and emitting "submerged" air currents, which in turn cause air pressure In the lower layers of the atmosphere, causing a rise in temperatures.
On the other hand, the northern and western regions of Pakistan are characterized by an extreme mountainous nature, represented by the extension of the Himalayas chain to the high western heights, and thus the emergence of the Fohn phenomenon in this region will not be difficult to happen, as with the activity of the Indian seasonal thermal depression, it in turn works to attract dry northwest winds Very hot, these winds descend from the tops of the high mountains towards the slopes and low valleys and the Indus plain in the south, to cause rapid heating of the air due to this movement of air. Just as it happens in the city of Jeddah during the blowing of the winds of Saba when the eastern winds blow from the Taif Mountains downward towards Mecca and Jeddah, so the temperatures rise sharply and dramatically in those areas.
This article was written originally in Arabic and is translated using a 3rd party automated service. ArabiaWeather is not responsible for any grammatical errors whatsoever.