Arab weather - the western parts of the United States of America and Canada are actually starting to be affected by a heat wave that was described as unprecedented due to the record temperatures accompanying it, not only that this heat wave has not reached its peak yet, as its impact is expected to increase on Tuesday to record historical and unprecedented temperatures in many areas.
Historic heat wave
In the details, the western regions of the United States and Canada are affected by a historical heat wave, which is characterized by its strength and the long period of its impact, as very hot and exhausting atmospheres prevail in those regions, as temperatures exceed their normal rates by about 15-20 degrees Celsius, where it is expected to be recorded, for example. For example, in the American capital, Washington, today, Monday, it reached 45 degrees Celsius, exceptionally and standardly, which is almost equal to the temperatures in some Gulf cities these days.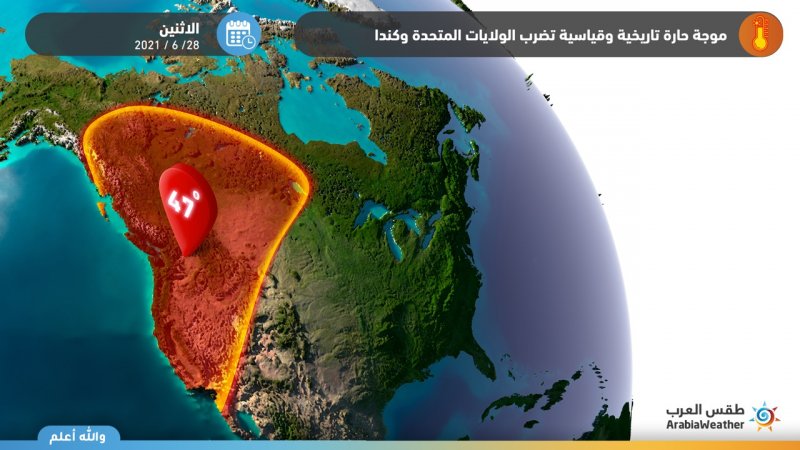 As for the most prominent records recorded, Canada recorded the highest temperature in the history of its climate records, after the weather station in Leighton recorded about 46.6 degrees Celsius on Sunday, and Oregon recorded 44 degrees Celsius, the highest temperature ever recorded since The beginning of climatic records is more than 80 years ago.
In light of this weather, the US National Weather Service warned Washington state and surrounding areas of extreme heat, eased Covid-19 restrictions on theaters and swimming pools, and opened an air-conditioned emergency shelter for residents without air conditioning.
The cause of the heat wave
An upper air rise dominates the northern parts of the United States, which contributes to the rebound of rising air currents from the surface of the Earth, and the emission of descending air currents, which in turn causes the accumulation of hot air in the layers of the atmosphere near the surface, simultaneously as a result of the activity of a cold air mass in eastern Canada and other parts of northern The eastern Pacific Ocean, which means confining the hot air mass for a long period of time to remain in place, as the stay of this hot mass over the western parts of the United States and Canada has led to temperatures reaching unprecedented and historical values in many regions.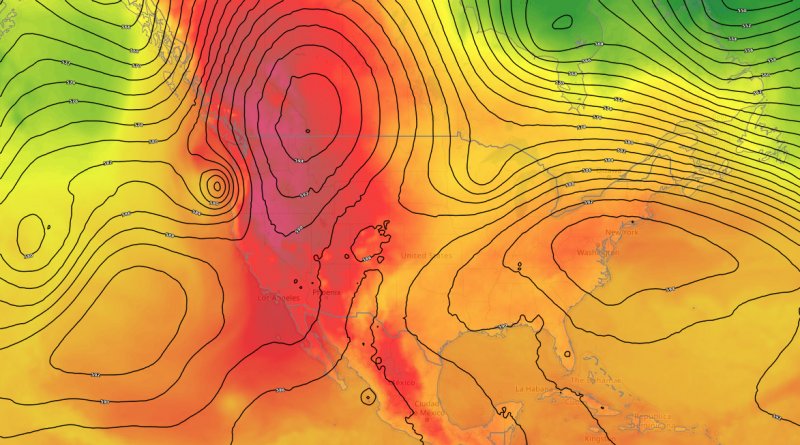 What is the highest temperature recorded in the history of climate records?
It is worth noting that the officially recorded highest temperature in the world is 56.7 °C (134 °F), which was measured on July 10, 1913, at Greenland Ranch, Death Valley, California, USA.
This article was written originally in Arabic and is translated using a 3rd party automated service. ArabiaWeather is not responsible for any grammatical errors whatsoever.