Arab weather - Thunderstorms began to fall in a number of areas today, Sunday, as clouds gradually multiplied at different heights and showers of thunderstorms fell in separate areas of Algeria. These unstable weather conditions are expected to affect the Republic of Algeria on a daily basis during the coming days, God willing. .
Warning of the danger of floods
According to the weather forecast department specialized in meteorological conditions, the Republic of Algeria will be under rain on a daily basis, with intensification in the intensity and intensity of thunder clouds during the evening and night hours, so that thunderclouds and strong thunderstorms are blowing, accompanied by active wind movement and precipitation between medium and heavy, in addition to precipitation. The papyri, and therefore, the Arab weather alerts, starting from the hours of the night of Sunday / Monday, of the formation of torrents in the valleys and low-lying areas in parts of northern Algeria.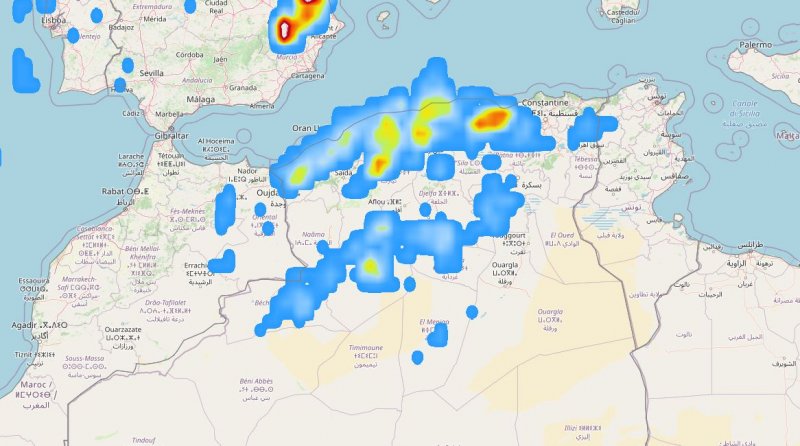 These rains are also accompanied by a great activity of surface winds that are expected to cause local sandstorms and limit the horizontal visibility in desert areas, where the winds are southeasterly to easterly moderate in speed, active at intervals, but they may be accompanied by strong flashes during the passage of clouds thunderstorm cumulus;
A special link to follow up on satellite images to follow the development of thunderclouds, moment by moment.
Additional rise in temperature in all regions
As for temperatures, there will be a gradual rise in temperatures in the coming days in all regions, following the construction of a strong air high in all layers of the atmosphere in the northwest of the African continent, to become higher than their rates for this time of the year between 4-6 degrees Celsius, and the weather is hot Relatively to hot in the northern regions in general, and hot to very hot in the rest of the regions, especially the southern and western states.

During the night hours, a warm atmosphere prevails in most of the central and southern regions, while it may tend to be cool in the late night hours in the northern regions, including the coastal ones. The surface humidity levels also rise and light fog forms on the northern parts that may extend to some coastal areas.
This article was written originally in Arabic and is translated using a 3rd party automated service. ArabiaWeather is not responsible for any grammatical errors whatsoever.