Update || Sunday 7/25/2021 PM at 2:00 PM
Arab weather - After the catastrophic floods that have occurred in the middle of the Republic of China during the past days, here is Hurricane Infa hitting the eastern coast of China on Sunday morning, and the cyclone was accompanied by heavy rains on coastal areas, in addition to strong winds that reached more than 150 km / h and a height of more than 150 km / h. The wave exceeded the 8-meter barrier, which led to the evacuation of more than one hundred thousand people, the cancellation of trips and the disruption of marine navigation in those areas.
Typhoon "In Fa" on the doorstep of Shanghai Province
The typhoon is centered at the time of preparing this report, at 29.7 degrees north latitude and 122.9 east longitude, and the atmospheric pressure reaches 968 millibars, amid expectations that it will make landfall in coastal areas of Shanghai Province during the period from Sunday night to Monday morning, coinciding with its transformation into a tropical storm, It is expected to bring with it violent weather represented by torrential rain exceeding the 500 mm barrier in just 48 hours.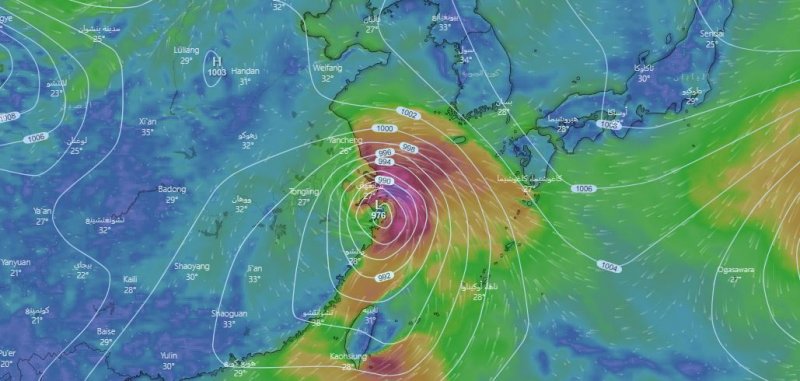 Shanghai Province is one of China's largest cities, which required all flights to stop at the city's two international airports, and dozens of trains were suspended and traffic was frozen in the ports of Shanghai and Ningbo.
It is worth noting that central China, specifically Henan Province, has been subjected during the past days to unprecedented floods, as at least 58 people were killed, and the authorities continue to work to remove car structures and debris from the roads to reopen them, as more than 495,000 people were evacuated. Floods in losses amounting to billions of dollars.
Tropical and Hurricane Season in the Western Pacific
The season of tropical conditions and cyclones is active during this season in the western Pacific region and the areas of the Philippine Sea, Japan and southern China, in conjunction with the dominance of the weak to neutral La Niña phenomenon, and the highest water warming values are present in the western part and areas of those areas, and according to the latest weather updates, more cases are expected to develop. Tropical and cyclones in those areas during the coming period until the end of its season, that is, until the beginning of next November, God willing.
This article was written originally in Arabic and is translated using a 3rd party automated service. ArabiaWeather is not responsible for any grammatical errors whatsoever.