Weather of Arabia - Southern Arabia is considered one of the areas prone to cyclones and tropical storms, so that the effects of tropical cyclones are regularly affected due to its coast extending on the Arabian Sea. The Arabian Peninsula will be hit by a new hurricane in the coming weeks.
The second season of tropical cases extends to late November
The prevailing weather conditions are suitable for the emergence of tropical conditions
Although the Sultanate of Oman was affected by Cyclone Shaheen and its stay over the waters of the northern Arabian Sea for several days with a relatively slow course and reaching the first degree, it was not sufficient to cool the waters of the Arabian Sea, so that the surface temperature of the Arabian Sea water ranges between 28-29 degrees Celsius, which is a suitable water temperature for the development of disturbances The tropics, if they arise, because the heat of the oceans and seas is considered a fuel and an energy source for such cases.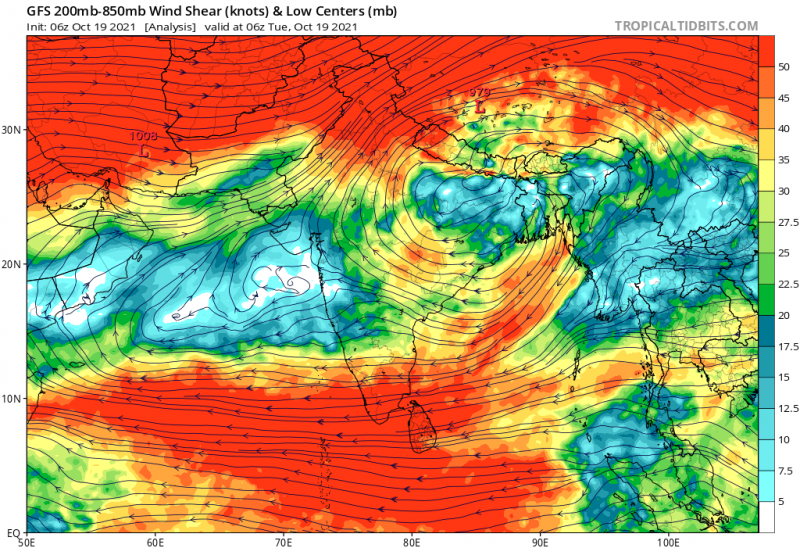 By the middle of October, the eastern regions are still in control of the atmosphere of the Arabian Sea, which causes the withdrawal of the monsoons, God willing, and the accompanying weakness in the activity of the shear winds over most parts of the Arabian Sea, which means that the tropical system, if it were, would be able to develop and increase the vertical growth of clouds Companion cumulus.
Statistically speaking, the second season of tropical conditions in the northern Indian Ocean extends from October and extends until late November, and the months of October and May are topped by most cyclones and tropical storms that originate in the Arabian Sea, while the most intense is in May, and it is not strange to the sea Arabs to embrace more than one hurricane in the same year, such as the years 2015 and 2018, in which the Arabian Peninsula was affected by three hurricanes during the season.
Arab weather indicates that the rise in global temperatures directly contributed to the increase in the severity of hurricanes, with an expected increase in the quantities of water vapor in the atmosphere and the corresponding increase in the amounts of rain and accompanying floods and the risks associated with the intensification of waves and their inundation of coastal areas.
Suggested topics:
Several reasons make Hurricane Shaheen an exceptional event
What is the scientific reason for the stability of the atmosphere on the mountains of the Sultanate of Oman and the Emirates after the impact of Hurricane Shaheen?
This article was written originally in Arabic and is translated using a 3rd party automated service. ArabiaWeather is not responsible for any grammatical errors whatsoever.