Weather of Arabia - A young Saudi man responded to the distress of two families, one of whom is Egyptian, and intervened to save them from drowning in the torrential waters of the torrential rains that hit the Saudi province of Torba.
The pioneers of social networking sites circulated a video clip of young people rescuing two families from torrential rain, the first Saudi and the second Egyptian, amid the chant of the surroundings, "May God guide you."
Immediately, the young man, Nahi Al-Baqmi, responded to the call of the two families, and, in cooperation with others, succeeded in rescuing them from drowning when the torrent swept them away while crossing the underground dam crossings.
Saudi saves two families from drowning
The young man, "Al-Baqami," said: "I heard a distress sound from a Jeep and another Camry, so I hurried out to get the loader, which was about 9 kilometers away from the torrent site.
At first, "Al-Baqami" rescued two women from the "jeep", then returned to rescue a 15-year-old young man, and also rescued 5 people from an Egyptian family. The only missing person was searched for and was found dead a kilometer from the site.
And he added: "I was walking with cars, and the voices of women and children were still in my ears, and I reached the site in record time and was able to reach the two cars despite the roughness of the site and the strength of the torrent. A number of young people helped me, and thanks to God, we saved 8 people."
Al-Baqmi said: "I did not hesitate to save the two families, and I tried to do my best, and I felt sympathy and a desire for panic to save these families from certain death. May God have mercy on the deceased young man, and wrote the reward for the young people who stood with me."
Honoring Al-Baqami district
Under the guidance of the Saudi Minister of Interior, Prince Abdulaziz bin Saud bin Nayef, the Director General of Civil Defense, Lieutenant-General Suleiman Al-Amro, honored the young man, Nahi Al-Fadhli Al-Baqmi; For his heroic deed to save two families from drowning that were swept away by the torrent of Wadi Torba last Thursday evening.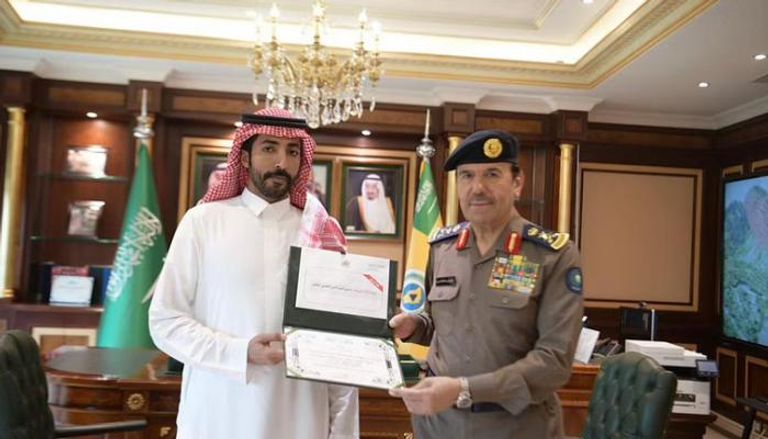 This article was written originally in Arabic and is translated using a 3rd party automated service. ArabiaWeather is not responsible for any grammatical errors whatsoever.