Weather of Arabia - It is expected that the whole of the Republic of Egypt will be affected by a hot and dry air mass in the coming days, which is reflected in a gradual rise in temperatures to become at high levels, this comes as a result of the expansion of the air-thermal depression from the east in conjunction with the control of the high altitude
loft over the area.
Very hot weather in most areas
It is expected that the hot air mass will directly affect Egypt, as the maximum approaches around 40 degrees Celsius in many cities and governorates of the Republic, especially the capital Cairo, especially at the end of the week, and the weather will be relatively hot in the northern coasts and hot to very hot on the Delta, Cairo, Canal cities and central South Sinai and the Red Sea coasts are very hot in the rest of the regions, but during the night hours, the weather will be pleasant in the northern regions and mild in the rest of the regions.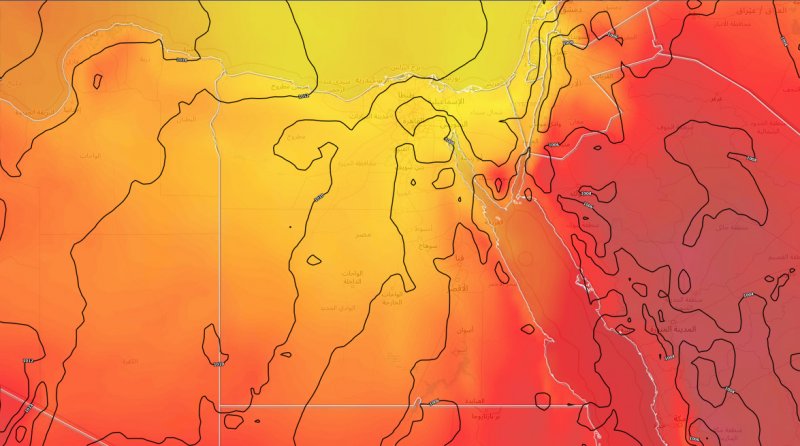 Winds are north to northwest, moderate in speed, sometimes active in large parts of Egypt, working to raise dust and dust in many areas, especially the areas of the Gulf of Suez and northern Upper Egypt, and the waves are moderate in the Mediterranean, while they are remarkably high in the Red Sea, which works to disturb navigation and some marine activities.
In light of these hot weather throughout the weekend, Arab Weather warns of the danger of direct exposure to the sun for long periods during the peak period, which extends from eleven in the morning until five in the afternoon, especially in the southern regions. It is also recommended to drink a lot of cold and hydrating fluids.
When reviewing the temperatures for the next five days in the capital, Cairo, for example, it is expected that the influence of the hot currents coming from the desert of the Arabian Peninsula on Egypt will gradually increase, as the temperature reaches its usual levels, bringing the maximum temperatures close to approaching the 40 degrees Celsius barrier in Cairo. The weather tends to become very hot, while it exceeds that in the southern parts of the Republic, as the low temperature extends towards those areas.

The activity of the northern winds continues after noon hours on a daily basis in large parts of the Republic, and it raises dust and dust in many areas, following the concentration of an air high in the center of the European continent, which contributes to the rush of active northern marine air currents with speed towards large parts of the Republic.
This article was written originally in Arabic and is translated using a 3rd party automated service. ArabiaWeather is not responsible for any grammatical errors whatsoever.