Arab weather - the effect of the heat wave has receded during the past days from the eastern parts of Algeria in addition to Tunisia, so that its direct impact will move to the western parts of it in addition to Morocco.
Temperatures are much higher than average
The heat wave continues to dominate the region on Monday
In the details, hot air currents coming from the African desert continue to rush towards the atmosphere of western Algeria, Morocco and Mauritania, so hot weather prevails in the northern coastal areas, while it is very hot in the rest of the regions, especially in the afternoon and afternoon hours, and temperatures exceed the 45 degrees Celsius barrier in many From the villages and cities of Morocco and inland Algeria.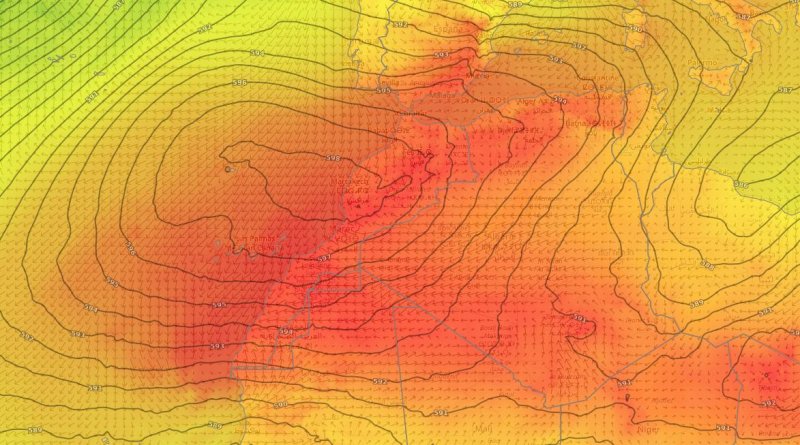 As for the night hours, a relatively hot atmosphere prevails in most of the central and southern regions, while it is remarkably warm in the northern regions, including the coastal ones, and quantities of clouds appear and the opportunity is ripe for local showers of rain in the northern interior regions of the Republic of Algeria.
This atmosphere comes as a result of the control of the upper altitude in the north of the African continent, a hot air mass rushes from the African Sahara towards the depth of Algeria and Morocco, as the air altitude in the upper atmosphere heats the air in the lower atmosphere due to a dynamic process characterized by heating under pressure, through The recoil of rising air currents from the surface of the earth, and the emission of "sunken currents", causing a rise in temperatures.
Arabia Weather warns of:
Avoid direct exposure to sunlight for long periods.
Drink plenty of cold fluids and refreshments throughout the day.
Attention not to leave sterilizers and any flammable materials inside the vehicles.
Attention not to leave children inside vehicles, even for a short period of time.
Do not throw cigarette butts or leave barbecue residues for fear of fires.
This article was written originally in Arabic and is translated using a 3rd party automated service. ArabiaWeather is not responsible for any grammatical errors whatsoever.