Arab weather - Large areas of the European continent and North Africa are still under the influence of an atmospheric high in all layers of the atmosphere, which worked to prevail in a warmer and drier atmosphere than usual in all of those areas, and in a rare and unusual manner during the last period.
It is expected that a new cold and humid air mass will rush across Spain towards the western basin of the Mediterranean Sea, and with the presence of other favorable conditions, an air depression will arise on Saturday 12-03-2022, centered on Majorca Island and affecting the atmosphere of Algeria and Tunisia, God willing.
Details of the impact of the air depression on Algeria on Saturday
In the details, the impact of this air depression begins with the dawn hours of Saturday, March 12, 2022, so that rains begin to fall in the western regions and at intervals, intensifying on Saturday and being heavy at periods that may be interspersed with some thunder and concentrated in the coastal areas, and the chance of rain remains until Saturday night. / Sunday, but a rapid decline will occur after that, after the depression moves to the east, away from Algeria, so that the rains will focus on the eastern regions, God willing.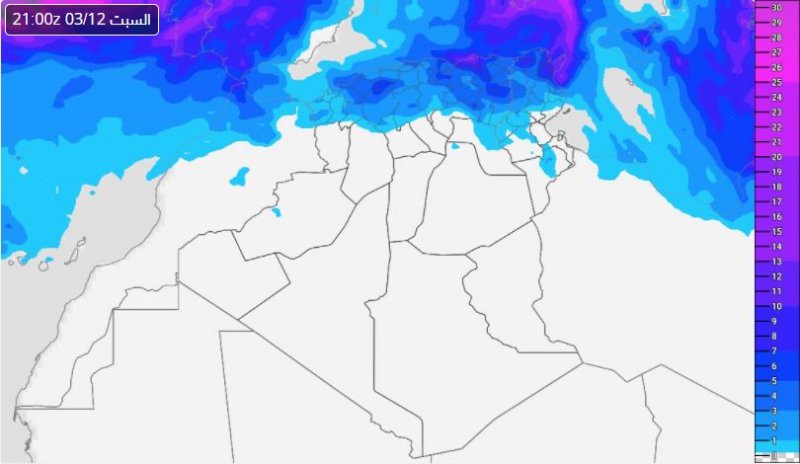 In conjunction with the impact of the depression, temperatures are expected to decrease in all northern regions, becoming lower than their usual rates for this time of the year, and winds will be northwesterly active, with strong gusts that lead to dust storms in desert areas.
How will the impact of the depression on Tunisia?
As for the effects of the air depression on Tunisia, it is expected that temperatures will decrease on Saturday in all the northern regions, and rain opportunities will begin, God willing, with daytime hours on Saturday in random parts of the north and west of the country, and as the depression moves east to center on the island of Sardinia with evening hours. And on Saturday/Sunday night, the northern and central parts of Tunisia are increasingly affected by rain, God willing, provided that the chances of rain decrease at dawn and Sunday morning.
God knows
This article was written originally in Arabic and is translated using a 3rd party automated service. ArabiaWeather is not responsible for any grammatical errors whatsoever.