Update || Saturday 08/21/21 pm at 10:30 am
Arab weather - according to the weather forecasts department specialized in weather conditions, the northern interior regions of the Republic of Algeria will be under rain on a daily basis during the coming days, God willing, with the intensity and intensity of thunder clouds gradually intensifying during the week, so that they are actively accompanied by the movement of winds and varying precipitation intensity, and here are its details:
Possible thunderclouds and dust waves
Thunderstorms in the northern interior
In the details, the latest forecasts indicate the continuation of unstable weather conditions on a daily basis during the coming days, sometimes strong and accompanied by heavy thunderstorms and hail showers in the northern interior regions, in addition to parts of the south of the republic, and these clouds are actively accompanied by downward winds that may form on the As a result, dust waves in some areas.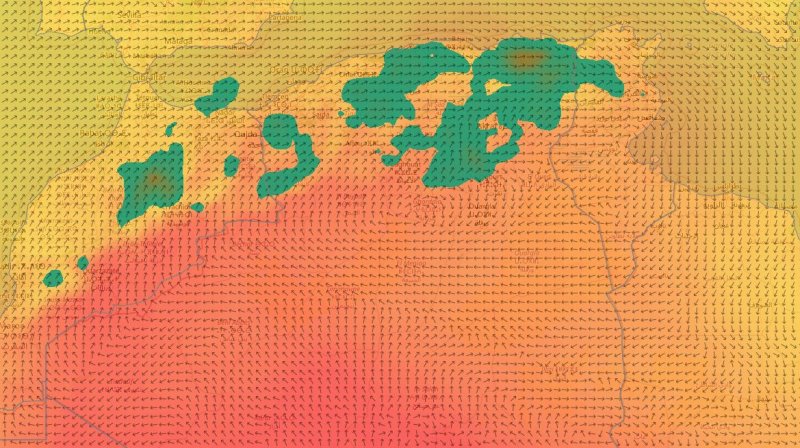 Due to the fires that occurred in many mountainous heights, the chances of the formation of sudden torrents and the flow of valleys increase, because the scorched earth becomes unable to absorb the falling rains as necessary, as the debris and ash remaining from the remnants of fires can lead to the formation of the so-called mud flow.
Some important recommendations:
Warning of local floods forming in some areas.
Warning of the intensity of hail showers, which may be intense at times.
Warning of the occurrence of thunderstorms and the accompanying activity of dusty surface winds.
Arab Weather advises everyone to follow up on updates to find out all that is new about the rainy situation, and we also put in your hands this link for satellite images to follow the development of thunderclouds, moment by moment.
This article was written originally in Arabic and is translated using a 3rd party automated service. ArabiaWeather is not responsible for any grammatical errors whatsoever.