Arab weather - After all parts of northwestern Africa, including the Republic of Algeria, lived under very hot weather and temperatures much higher than their normal rates, the temperatures decreased on Tuesday due to the rush of a moderately hot air mass originating from the Mediterranean Sea, working to increase humidity in the atmosphere and decrease perceptible to heat.
More drop on heat Wednesday
In the details, there is a further decrease in the temperature on Wednesday to become below its normal rates in the northern regions by 5-7 degrees Celsius in the northern regions, and the atmosphere turns into a mild summer in the mountainous and coastal highlands, while it remains very hot in the central and southern parts, and thunder clouds are also forming. It is local in parts in the northern interior regions that work on light showers of rain, and the winds are northeast, moderate in speed, sometimes active and raise dust and dust, especially in desert areas.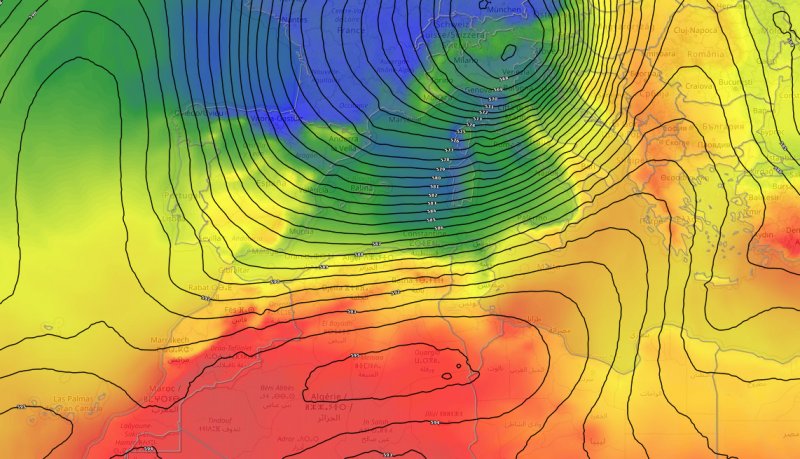 During the night hours, a remarkably warm atmosphere prevails in most of the central and southern regions, while the weather is generally pleasant in the northern regions and tends to be cold with the late night hours. Humidity levels also rise and fog forms in many northern interior regions that may extend to some coastal areas.
Temperatures will return to normal as of Thursday
As of Thursday, temperatures are expected to rise, ranging between rates for this time of the year, and normal summer weather prevails in the northern and coastal regions, while it is very hot in the central and southern regions, and in conjunction with this atmosphere, unstable weather conditions prevail in parts of the regions. The northern interior, so that there is a daily chance of scattered showers of rain, and winds are active and raise dust and dust, especially in desert areas.
Arab weather advises citizens not to be exposed to direct or prolonged exposure to the sun, especially during the afternoon and afternoon hours, and to avoid exerting physical exertion during the peak heat hours, i.e. between 11 am and 5 pm, to avoid sunstrokes, especially in the central and southern regions, in addition to the low areas.
It is worth noting that the Republic during the summer months is under conflict and overlap between the influence of the hot masses centered over the south of the country and the extension of the gentle heat masses rushing across the Mediterranean Sea, and the extent of the influence of one of the blocs at the expense of the other depends on the distribution of air systems in the northern half of the Earth.
This article was written originally in Arabic and is translated using a 3rd party automated service. ArabiaWeather is not responsible for any grammatical errors whatsoever.