Weather of Arabia - It is expected that the normal summer weather that prevails in Algeria will continue during the first half of the week, but as of Wednesday, the upper atmospheric high latent over Algerian territory is gradually intensifying, as a result of which the temperatures rise again to reach high levels and hot and exhausting weather prevails in most Regions.
Normal summer weather first half of the week
There is a further decrease in the temperature during Sundays, Mondays and Tuesdays, to become below its normal rates in the northern regions, and moderate to normal summer conditions prevail in the mountainous and coastal highlands, while it remains very hot in the central and southern parts , and local thunder clouds are also forming in parts in the interior regions in addition to For the far south of the Republic, it works on light showers of rain, and the winds are north to east, moderate in speed, sometimes active and exciting for dust and dust, especially in desert areas.

During the night hours, a remarkably warm atmosphere prevails in most of the central and southern regions, while the weather is generally pleasant in the northern regions and tends to be cold with the late night hours. Humidity levels also rise and fog forms in many northern interior regions that may extend to some coastal areas.
Hot air mass as of Wednesday
In the details, it is expected that temperatures will rise again from Saturday gradually, to be much higher than their rates for this time of the year, so that hot weather will prevail in the northern parts, especially in the afternoon and afternoon hours, while it is very hot in the central and southern regions, and the opportunity will be Prepared for local showers of rain in limited areas of the country, and the winds will be easterly moderate in speed, energizing at times, and causing dust and dust.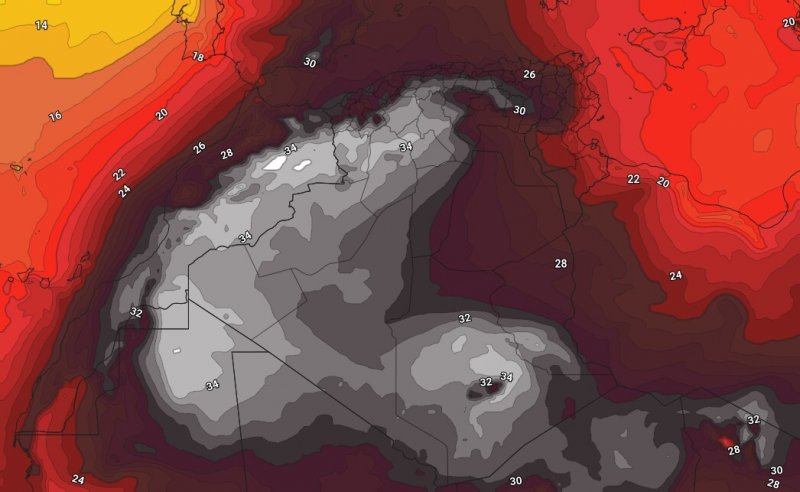 In light of this atmosphere, Arab weather warns of the need to adhere not to direct exposure to sunlight for long periods, not to exert physical effort, especially in the afternoon and afternoon hours, and to drink a lot of cold fluids and refreshments throughout the day.
This article was written originally in Arabic and is translated using a 3rd party automated service. ArabiaWeather is not responsible for any grammatical errors whatsoever.