Weather of Arabia - readings of weather maps indicate expectations of an early onset of the Al-Bawareh winds over the Gulf countries during the coming days, due to the dominance of a moderate-temperature air mass in the north of the Arabian Peninsula, coinciding with the beginning of the deepening of thermal depressions in the southeast of the Kingdom of Saudi Arabia.
Starting from Monday: Gradual activity of Al-Bawarih winds during the week
It is expected, God willing, that the dry winds of Al-Bawareh will blow over southern Iraq and Kuwait, starting from the first Monday of May, and cause some dust and dirt, especially in the desert areas.
And its activity increases on Tuesday in the southeast of Iraq and Kuwait, and then Qatar and Bahrain, reaching the east of the Kingdom of Saudi Arabia, and breaks west to the south of the Riyadh region administratively, and causes dust and dust, which leads to a decrease in the horizontal visibility.
As for the end of this week, it is expected that Al-Bawareh activity will reach its peak, as it will affect all the Arab Gulf countries, including Kuwait, Qatar, Bahrain, the Emirates, and eastern and southern Saudi Arabia, and cause dust storms in some areas in addition to disturbance in the waters of the Arabian Gulf. Winds that stir dust and dust are likely to be active in the desert areas of the Sultanate of Oman.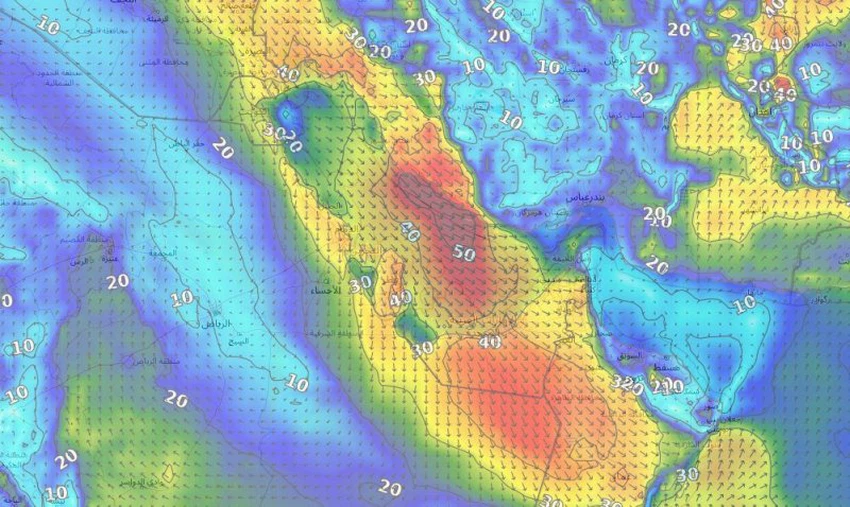 The Al-Bawareh winds stifle the progress of the moisture tide coming from the Arabian Sea, which leads to weak chances of rain in most parts of the Gulf countries, except for parts of the highlands in the southwest of the Kingdom of Saudi Arabia, which will be spared from the activity of the Al-Bawareh winds.
Early onset of winds
And one of the conditions for naming the winds of Al-Bawareh is to look at the weather system, not just the climatic period, because the climatic seasons may precede their time or may be delayed, and it is not permissible to follow this matter only, but to look at several conditions for the beginning of this weather system, which are:
The activity of thermal depressions in the south of the Arabian Peninsula.
High atmospheric pressure in the north of the Kingdom of Saudi Arabia.
Active at noon and quiet at night.
In many periods, some climatic periods begin before their time or may be late, and this applies to the monsoons in India and the period of activity of winter depressions in the Mediterranean or the Khamseen, as the atmosphere is a complex dynamic system that does not follow specific climatic designations, and it is rare That the climatic periods start at their exact time.
This article was written originally in Arabic and is translated using a 3rd party automated service. ArabiaWeather is not responsible for any grammatical errors whatsoever.