Weather of Arabia - The National Center for Wildlife Development in Saudi Arabia stated, through its Twitter account, that the Arabian lion, the Arabian ostrich, the cheetah, and the Saudi deer are among the innate creatures that have become completely extinct from the lands of Saudi Arabia.
He also pointed to other creatures that are threatened with extinction for several reasons, including: overfishing, pollution, and the deterioration of ecosystems.
Regarding these extinct animals, Hamza Al-Ghamdi, who is interested in wildlife and spokesperson for the "Rahma" Association for Animal Welfare, told Al-Arabiya.net that the Saudi gazelle has become extinct, and it is an independent species bearing this name, and its extinction was officially declared in 2008 AD, with little hope that it will be discovered. The presence of the remains of the strain at one of the breeders or in one of the remote places.
He added: The Arabian cheetah is the fastest mammal that became extinct about fifty years ago, and it is a unique species of the feline family, and is characterized by high agility.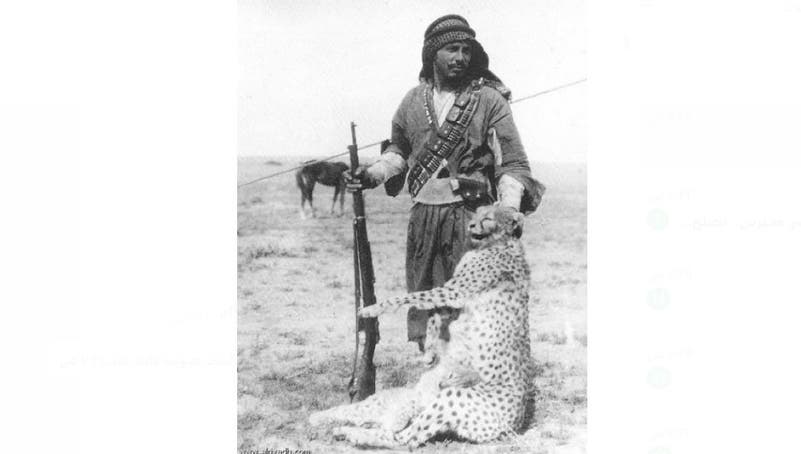 (The last photo of the Arabian leopard, the hunter (the Cheetah) in 1972 AD)
Al-Ghamdi said: The Arab lion, which was sung by Arab poets, became extinct in Saudi Arabia more than 100 years ago, and it is similar to the Asian lion, but it is smaller in size than the rest of the lions. It lives in reefs and sandy areas, and many ancient eggshells of Arabian ostriches have been found in the sands of the Empty Quarter, the Nafud Desert, and other places.
He explained that the geographical expansion of Saudi Arabia has created a large and uneven biological diversity between one region and another for wildlife, and the evidence for this is that the desert environment in Saudi Arabia used to live in the cheetah and the Arab lion, as well as the Saudi gazelle and the Arabian ostrich, and all of these became extinct a long time ago.
He pointed out that there is great interest in resettling many endangered animals and birds, such as the Arabian leopard, oryx, houbara, antelope, and other animals and birds that form corners in the culture of the popular and historical heritage of Saudi Arabia.
This article was written originally in Arabic and is translated using a 3rd party automated service. ArabiaWeather is not responsible for any grammatical errors whatsoever.