Arab weather - high and low temperatures and weather forecast in Arab capitals and cities on Tuesday 19-11-2019:
Weather in the Arab Gulf States:
The rainy situation "Ghaith" continues on Saudi Arabia and increasing thunderstorms in Bahrain, Qatar and parts of the UAE.
Rainfall, including the capital Riyadh, the eastern parts of the Red Sea, and thunderstorms in some areas.
Thunderstorms include Qatar and Bahrain with potential for flash floods in some areas.
Rainfall extends towards parts of the UAE and Oman with hours of Tuesday night and Wednesday.
Dust and dust surface activity, especially in the east and central regions of Saudi Arabia, Qatar, Bahrain and parts of Iraq and Kuwait.
Low temperatures approaching zero degrees Celsius with the possibility of frost formation in parts of Northern, Al Jouf and Tabuk in Saudi Arabia.
Weather conditions in Bilad al-Sham and Egypt:
Cold weather with low temperatures, especially the Badia and eastern parts of Syria and Jordan.
Temperatures are lower than normal in different regions.
Cold to very cold weather at night, especially over the desert and desert areas where the minimum temperatures drop to almost zero Celsius in the Syrian and Jordanian desert.
Surface wind activity in Jordan and Palestine to increase the sense of cold, especially in mountainous areas may be associated with the formation of light dust and dust.
Decimal temperatures in large parts of Egypt including Cairo with stable weather.
Frosts are likely in parts of Syria, Lebanon, southern Jordan and Palestine.
Weather in the Maghreb countries:
Low temperatures in large parts of Algeria, Tunisia and the Kingdom of Morocco.
Rainfall in parts of Tunisia and Algeria may be punctuated by some high altitude snow.
Low temperatures, especially the coasts of Algeria, Tunisia and the Kingdom of Morocco are approaching zero degrees Celsius in some highlands.
Active winds with strong gusts on the coasts of Algeria and Tunisia, working on sea turbulence and high waves.
Expect snow on the peaks of the highlands of eastern Algeria with early morning hours.
Weather around the world:
A rainy air front affects western Europe and includes the countries of Ireland, Britain, Portugal, Spain and France.
Heavy thunderstorms on different parts of Italy and Greece with snowfall in the Alps in Italy.
A cold air mass in northeastern America is associated with rain and snowfall in the suburbs of New York and Pennsylvania as it extends towards southeast Canada.
Monitor the development of a new tropical situation in the Philippines Sea in the next 48 hours.
Continuous snowfall in northern Iran with temperatures below minus 4 Celsius.
KALMAEGI enters the land of the northern Philippines with a gradual decline.
The Soul
Weather conditions and expected temperatures in the capitals of the Arab world on Tuesday 19-11-2019: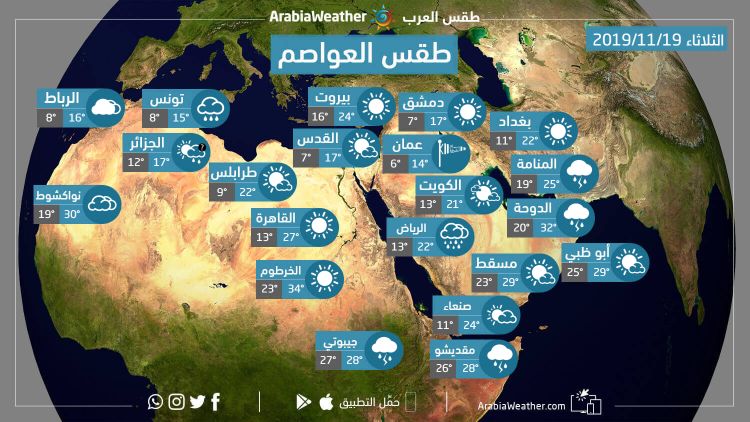 See the weather in your location during the week through the Arab Weather app
This article was written originally in Arabic and is translated using a 3rd party automated service. ArabiaWeather is not responsible for any grammatical errors whatsoever.