Arab weather - the weather systems have begun to take on a winter character in the northern hemisphere, so that an air depression is expected to approach the Sultanate during the second half of the week, coinciding with the flow of moisture from the Arabian Sea, which reduces temperatures and the return of weather fluctuations and chances of rain over Al Hajar Mountains and the surrounding areas, and here are the details:
Find out about the weather in your area through the Arab Weather application, from here
An atmospheric depression is approaching the Sultanate as of Wednesday
Low temperatures and thunderstorms in many areas
In the details, on Wednesday, an air depression approaches the northern part of the Sultanate of Oman through southern Iran, passing the Sea of Oman and the Strait of Hormuz, so that the Sultanate is under the influence of air currents with temperatures below their normal rates, coinciding with the rush of southeast winds loaded with quantities of moisture in the layers of the air. The low and medium levels are what creates atmospheric disturbances in parts of the Hajar Mountains, as a result of which rains fall, and the extension of some rainy thunder clouds to parts of the coastal areas of the Sea of Oman is not ruled out.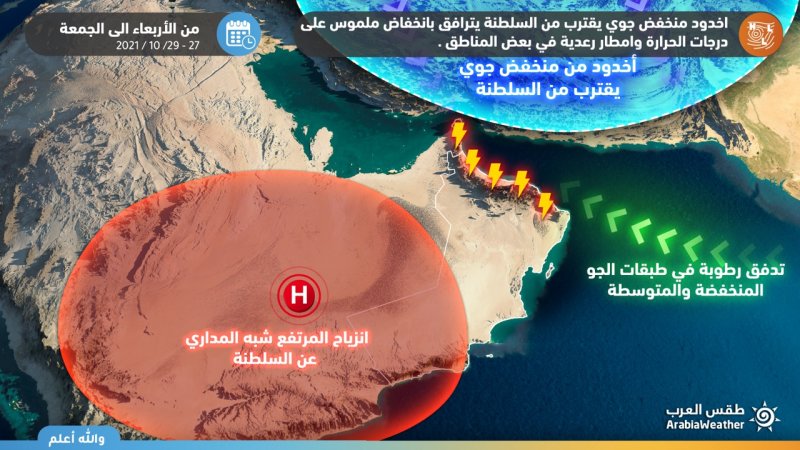 This climate, God willing, comes as a result of the intensification of the subtropical air altitude in the southwest of the Arabian Peninsula, which leads to allowing moist winds to penetrate from the Arabian Sea, which is responsible for feeding thunderclouds with the thermal energy and moisture necessary for their intensification and growth, so that the opportunity is ripe for the development of some cumulus clouds on parts of the Al Hajar Mountains, accompanied by rains of varying intensity, may be heavy in some geographical areas, and activity in the speed of downward winds.
Given the expected thermal differences in the afternoon and evening of Wednesday and Thursday between the surface of the earth and the air that is less hot in the upper layers of the atmosphere, it is expected that thunder clouds will be dense at times and strong thunderstorms will blow in some areas. Some parts of the northern Sultanate.
Read also:
For the second year in a row, the La Nina phenomenon ravages the atmosphere again
This article was written originally in Arabic and is translated using a 3rd party automated service. ArabiaWeather is not responsible for any grammatical errors whatsoever.