Arab Weather - Most of the monitoring centers and international agencies, including the National Oceanic and Atmospheric Administration ( NOAA ), indicate an expected development of the La Niña phenomenon during the coming period. God, and the weather forecast staff in the Arab weather is closely monitoring its possible consequences for the upcoming rainy season.
The La Nina phenomenon will ravage the atmosphere in the coming months
In details, it is likely that the surface of the waters in the tropical Pacific will witness more cooling in the coming months, as a result of the increase in atmospheric pressure in the eastern Pacific Ocean at the expense of its decrease in the north of the Australian continent, which leads to an increase in the activity of trade winds, The La Niña phenomenon mainly affects the atmospheric systems in the atmosphere, which leads to a reflection on the weather in various regions of the world.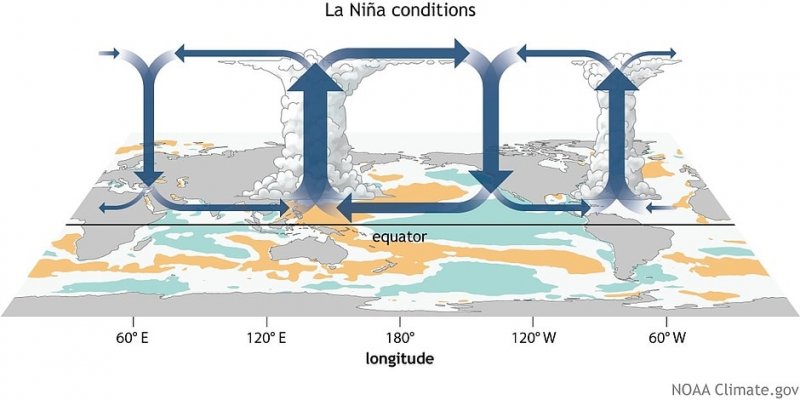 La Niña was statistically associated with an increase in extreme weather conditions, as the Australian continent fell to intensified rains due to the retreat of the warm waters in the western Pacific Ocean, in contrast to weak rains in the coasts of Peru and South America, all of which later reflects a change in the weather systems in the middle and upper latitudes and changes in the weather in regions wide.
To what extent does the La Niña phenomenon affect the world's weather?
The effect of the La Niña phenomenon extends towards the Indian Ocean, as it indirectly leads to a decrease in the surface water temperature in the western part of the Indian Ocean and the Arabian Sea, which leads to a decrease in the amount of water vapor, and indirectly affects the movement of jet streams in the upper climatic layer of Atmosphere.
Arab weather indicates that the La Nina phenomenon is not the only cause of all weather phenomena in the world, but rather an atmospheric variable that contributes among dozens of other variables in the weather condition, where the weather condition results from the outcome of complex weather factors, and is not exclusive and as a result of a particular weather phenomenon.
This article was written originally in Arabic and is translated using a 3rd party automated service. ArabiaWeather is not responsible for any grammatical errors whatsoever.