ArabiaWeather - The latest weather updates received in ArabiaWeather indicate that the indicators will continue to form the first tropical state in the Arabian Sea in the coming days, and the tropical state will be called Toktai according to the naming table for the Indian Ocean and Arabian Sea cases.
It is noteworthy that the month of May is considered one of the active periods in which tropical cases are active in the Arabian Sea and it is called ( pre-monsoon season ), and May is the month in which tropical cases were formed according to the available climate records 130 years ago.
The toktai orbital condition path forecast
According to the latest projections, the effects or consequences of the tropical condition may directly affect parts of the coasts of the Sultanate of Oman and Yemen, and it is among the many possibilities for the course of the Tuktai orbital state. The complex variables surrounding the tropical state (atmospheric pressures, winds, temperatures, etc.), in addition to the small number of daily observations in the Arabian Sea contribute to the low accuracy of such forecasts.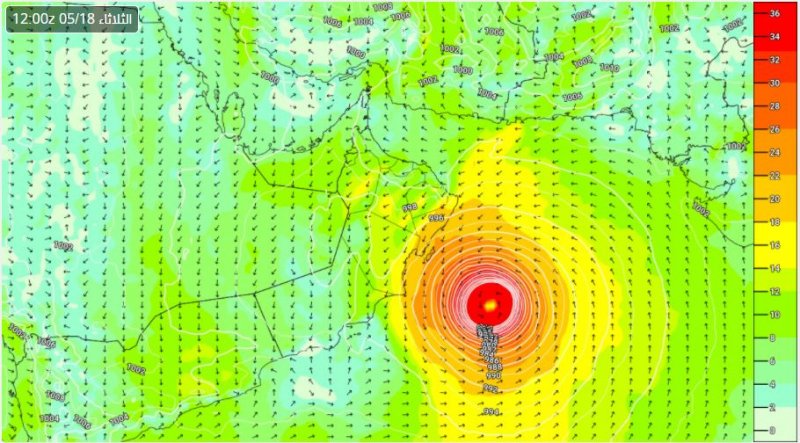 (One of the possible routes from one of the updates of the numerical models, and it does not necessarily represent Arab weather forecasts)
Climatic conditions prevailing
The maps of the upper wet masses indicate a deepening of a wet wave in the western Indian Ocean with mid-May, while the waters of the Arabian Sea are witnessing a great heating of its surface waters, which reach a surface temperature of 30 degrees Celsius, and it is known that these tropical conditions feed directly on the high temperatures, which contribute significantly to Significant in its increase in strength and perhaps its development into a tornado later, it also derives its strength from the presence of the subtropical high altitude above it, which maintains its moisture.
The specialists at the Arab Weather Regional Center continue to analyze and follow the latest developments in the weather around the clock, calling for the follow-up of weather forecasts and reports issued by them on the development of the tropical situation.
Also read: Conditions for tropical states in the Indian Ocean and Arabian Sea.
This article was written originally in Arabic and is translated using a 3rd party automated service. ArabiaWeather is not responsible for any grammatical errors whatsoever.