Arab Weather - Satellite images indicate the presence of large quantities of clouds in the southeastern Arabian Sea since the past days. These clouds expanded and began to rotate to form the so-called orbital depression, while the tropical depression rapidly developed over the past few hours into a deep tropical depression rapidly. Surface winds exceeded 30 knots at its center.
Areas of influence
The weighted path
The deep tropical depression is located at the time of preparing this report (Friday, May 14, 2021) at 11.5 north latitude and 72.5 east longitude, while the probability forecast indicates that the tropical condition will move north and northeast in the coming hours along the Indian western coasts, in conjunction with the deepening of the surface air pressure values And an increase in wind movement, bringing the tropical condition to the point of a storm.
Arab weather forecasts indicate that the tropical situation will continue to evolve in the coming days, exceeding the average wind speed to 70-80 knots to classify a hurricane, in conjunction with a break in its path towards the northwest towards the coasts between the Indian and Pakistani borders.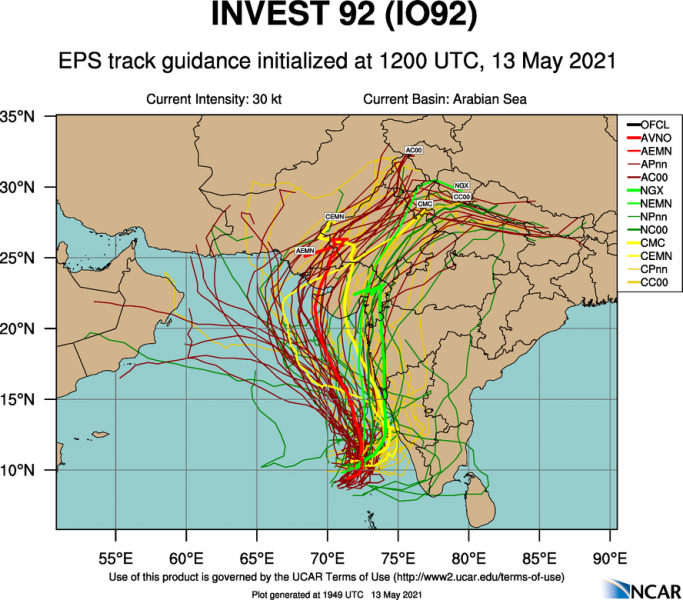 Arab Weather notes the impossibility of an inevitable and accurate prediction from now due to the large number of surrounding variables controlling the course and intensity of the orbital state, as the margin of error is considered large, especially after 48 hours.
The effect of tropical conditions on the Arabian Peninsula
Indirect effects
In contrast to some outputs of numerical models, the forecast staff expects that the path of the tropical state does not give any opportunity for it to reach the coast of Oman, and the reason for this is due to the strong influence of the westerners on the tropical state, which works to displace it towards the east, and the distribution of atmospheric pressures indicates a negative pattern represented by the control of An air height in southern Arabia accompanied by an active prevalence of shear winds.
In the same context, and despite the lack of a direct impact of the tropical situation on the Arabian Peninsula, ArabiaWeather provides an early warning to sea goers and navigation practitioners of the danger of frequenting the sea due to the expected great turbulence of the sea.
This article was written originally in Arabic and is translated using a 3rd party automated service. ArabiaWeather is not responsible for any grammatical errors whatsoever.