Arab weather - maximum and minimum temperatures and weather forecast in Arab capitals and cities on Thursday 7-11-2019:
Weather in the Arab Gulf States:
Stable weather throughout the Arabian Peninsula ... High and medium clouds scattered throughout the Gulf States.
Stable weather throughout the Arabian Peninsula and the Arabian Gulf
High and medium clouds are scattered across Qatar, Bahrain, UAE, and east, central and southern Saudi Arabia
Southerly to Southwesterly winds over Madinah, Hail and Qassim disturb dust.
Temperate temperatures are on Doha, Kuwait, Manama, Abu Dhabi and Riyadh where they are in the late twenties and early thirties.
Weather conditions in Bilad al-Sham and Egypt:
A stable atmosphere in all regions of the Levant .
Stable conditions prevail with warmer than normal temperatures in most regions of the Levant.
Jordan is blowing east to south-east winds that may increase dust.
Increased cold feeling at night due to dry eastern wind
High humidity in northern Egypt with a chance to form fog and light fog on Friday morning.
Weather in the Maghreb countries:
Temporary stability on weather in Tunisia and Algeria Morocco
The weather in Tunisia, Algeria and Morocco temporarily stabilizes on Thursday hours before the effects of a new low depression and a cold air front begin in the evening from Morocco, then northern Algeria and Tunisia later in the night and Friday morning.
Southwesterly to westwesterly active winds on the coasts of Algeria and Tunisia at the forefront of the air depression are disturbing the sea.
Warm southern winds are blowing in Libya with a clear rise in temperatures, especially in the east of the country.
Weather around the world:
A very cold and polar air mass rushes west of the European continent, bringing heavy rains and heavy snow on the British Isles, Spain, France and Portugal.
Heavy rains expected to Italy, the Adriatic Sea and the Balkan countries gradually extend towards Greece.
Atmospheric instability in Texas, Oklahoma and Arkansas with heavy thunderstorms
Extremely cold weather in eastern Canada and the Great Lakes region where heavy snow falls on these areas, including the opportunity of the Canadian capital Ottawa
Weather conditions and expected temperatures in the Arab world on Thursday 7-11-2019: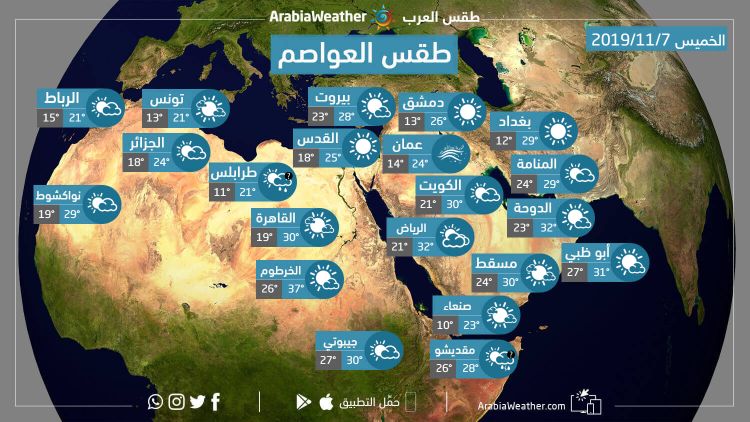 See the weather in your location during the week through the Arab Weather app
This article was written originally in Arabic and is translated using a 3rd party automated service. ArabiaWeather is not responsible for any grammatical errors whatsoever.