Arab weather - maximum and minimum temperatures and weather forecast in Arab capitals and cities on monday 25-11-2019:
Weather in the Arab Gulf States:
Unstable weather on parts of Saudi Arabia, Kuwait, southern Iraq and western Yemen
Cold weather with late night hours and early morning on northern Saudi Arabia and parts of northwestern Iraq, accompanied by moderate south-eastern winds while very cold in northeastern Iraq.
Temperate temperatures in the mid-twenties in Doha, Riyadh, Manama, Kuwait, Abu Dhabi, as well as Muscat, while it is relatively cold on Baghdad and Sanaa and be cool to relatively cold with night hours.
Thunderstorms in the early morning hours in parts of eastern, central and southwestern Saudi Arabia, including the capital Riyadh, Kuwait, southern Iraq and western Yemen.
Thunderstorms are renewed with the afternoon hours in southwest Saudi Arabia and western Yemen and continue through the night hours with thunderstorms in the Hajar Mountains northeast of Oman and northern Qatar.
The chances of fog increase with late night and early morning on large parts of northern and central Saudi Arabia and parts of central Saudi Arabia as well as parts of southern Iraq.
The winds are southwesterly moderate to south central while the southeasterly is active on Kuwait and southern Iraq, and variable directions are mild on the rest of the regions.
Weather conditions in Bilad al-Sham and Egypt:
A stable atmosphere with a gradual rise in temperature so that the atmosphere will continue to be cold during the day on the Levant and warm on Egypt while it is cold at night.
Temperatures rise slightly over Amman, Jerusalem and Beirut, while there is no noticeable change in temperatures on Damascus, with a generally cooler climate during daylight hours.
The cold weather continues throughout the Levant regions at night, accompanied by moderate dry winds to moderate to active speed, which works to increase the sense of cold, especially in the areas of the desert and mountain highlands.
Temperatures over Egypt are soaring that most of the country is warm and relatively cold at night.
Southerly to Southwesterly active winds are dusty and dusty, affecting parts of northern and central Egypt, as waves rise off the northwest coasts, disrupting some marine activities.
Weather in the Maghreb countries:
Winter weather is accompanied by active winds and rain opportunities on the coasts of Algeria, Tunisia and Libya
The chances of showers continue to hit northeastern Algeria, northern Tunisia and parts of the Libyan coast.
Dusty active western winds in southern Algeria, Tunisia and western Libya, while southeastern Libya is affected by active southwesterly dusty winds and soil on some of these areas.
The climate is relatively cold on Algeria, Rabat, Tunisia and Tripoli and is very cold on the highlands at night while it is warm on Nouakchott.
High waves and disruption of navigation off the coast of Algeria, Tunisia and northern Libya.
Weather around the world:
A low depression affects Italy, Greece and Turkey, which causes heavy thunderstorms in parts of Greece and southern Turkey, and is accompanied by low temperatures and active winds working on sea strikes, especially southern Greece.
Tropical storm Sebastian is active in the mid-Atlantic with winds of 93 km / h and cities expected to affect parts of western Europe.
Depression affects western France and England, in addition to Ireland is accompanied by unstable weather conditions where heavy rains sometimes and strong winds accompanied by strikes in the sea and high waves.
Scandinavia is affected by a low-altitude aerial stretch that sporadically snow.
Eastern Canada and Northeast America are affected by a low-lying downpour that rains along the coast, while snow falls in Vermont, New Hampshire and Maine.
Minnesota and North Dakota are affected by a snowfall, wind activity and snowfall in the northwest.
Heavy rains continue in parts of Argentina, Brazil, Bolivia, Chile and parts of the northern South American continent.
Thunderstorms in the south-east coast of Africa include Madagascar, Zimbabwe, Kenya and Somalia.
The Soul
Weather conditions and expected temperatures in the capitals of the Arab world on Monday 25-11-2019: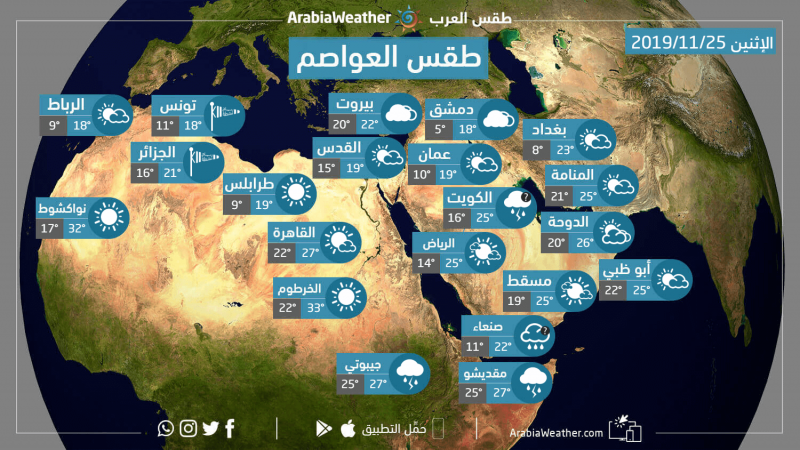 See the weather in your location during the week through the Arab Weather app
This article was written originally in Arabic and is translated using a 3rd party automated service. ArabiaWeather is not responsible for any grammatical errors whatsoever.