Weather of Arabia - The air systems in the Arabian Peninsula during the current week are represented by the normal behavior of the air masses in the region during most periods of the week, and towards the end of the week, the subtropical air height of the northern regions of the Arabian Peninsula is shifting, ensuring a new rise in temperatures in those areas at the expense of The eastern parts of the southwestern parts of the Arabian Peninsula incursion, which leads to the emergence of unstable weather conditions in those areas, God willing.
High chances of wadis flow
Preliminary indicators of improved monsoon rains in the southwest of the Kingdom at the end of the week
In details, it is expected that temperatures will be slightly higher than their usual rates in most parts of the Kingdom in the coming days, but they tend to decrease slightly in the northwestern parts as a result of a less hot air mass approaching the eastern basin of the Mediterranean. The weather is hot in various regions of the Kingdom, especially the central and eastern regions.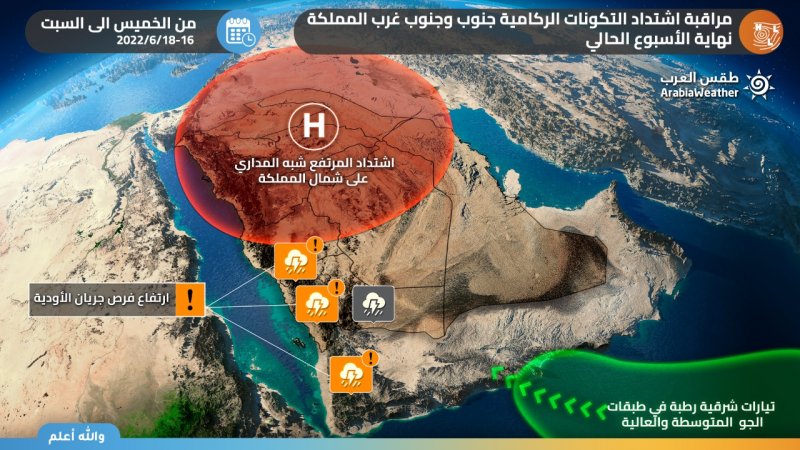 And at the end of this week, as a result of the intensification of the subtropical air altitude in the north, temperatures are rising again in the north of the Kingdom, and the Sharqiyat (wet easterly winds in the middle and high layers of the atmosphere) are blowing, creating unstable weather conditions in parts of the southwest of the Kingdom by will. Allah.
Oman and the UAE
Al Hajar Mountains formation activity in the middle of this week
It is expected that low clouds and fog will spread over parts of the coasts of the Sea of Oman and the eastern coast of the UAE during the late night and morning hours of Sunday and Monday, and it may be accompanied by drizzle in some areas. It is not excluded that local formations will be active on the Hajar Mountains during the middle of this week, with the formations concentrating on the middle stone, accompanied by scattered showers of rain, lightning and thunder sometimes, God willing.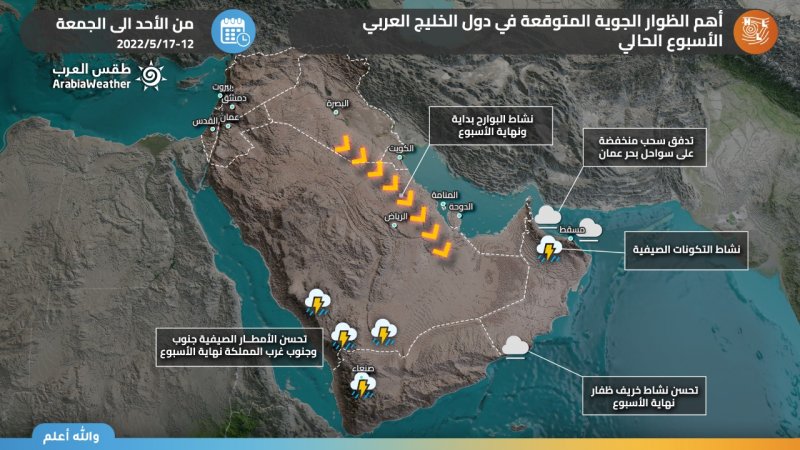 Wind activity renewed in Qatar, Bahrain and the Emirates at the end of the week
Hot to very hot weather in all areas, God willing
Temperatures are expected to be slightly higher than their normal rates for this time of year, and hot to very hot weather prevails in most areas of Qatar, Bahrain and the UAE. Towards the end of the week, temperatures continue to rise, winds become active, and as a result, the concentration of dust in the atmosphere, especially the interior regions, will rise, God willing.
God knows.
This article was written originally in Arabic and is translated using a 3rd party automated service. ArabiaWeather is not responsible for any grammatical errors whatsoever.