Arab Weather - Specialists in the Arab Regional Weather Center for Meteorology and Forecasting are following up on the rise in chances of forming the first tropical situation in the western Indian Ocean and the Arabian Sea during the last third of May 2022, especially at the end of this period, and the coasts of the Sultanate of Oman and Yemen may fall on one of the possible paths by nature adverb.
Favorable conditions for the formation of tropical conditions in the Arabian Sea
Chances of forming the first tropical condition in the Arabian Sea rise during the last third of May
Tropical conditions that affect the Arabian Peninsula usually arise in the southeast of the Arabian Sea, and after their formation, they have three different possible paths to take, the first in the northeast direction, i.e. towards India, the second in the north/northwest direction towards Pakistan and the Sultanate of Oman, and the last path westward towards Yemen and the Horn Africa, with an opportunity also for the tropical situation to fade at sea in the event that weather conditions are not available to continue it.
Conditions for the formation of tropical states:
The presence of a low atmospheric pressure area that attracts winds and causes strong upward rotational air currents.
The surface temperature of the sea water is warm and exceeds 27 degrees Celsius, so that the warm water and the resulting water vapor serve as the fuel that powers tropical systems.
Weak shear winds, because shear winds limit the vertical growth of cumulus, meaning that they hinder the process of thickening the clouds.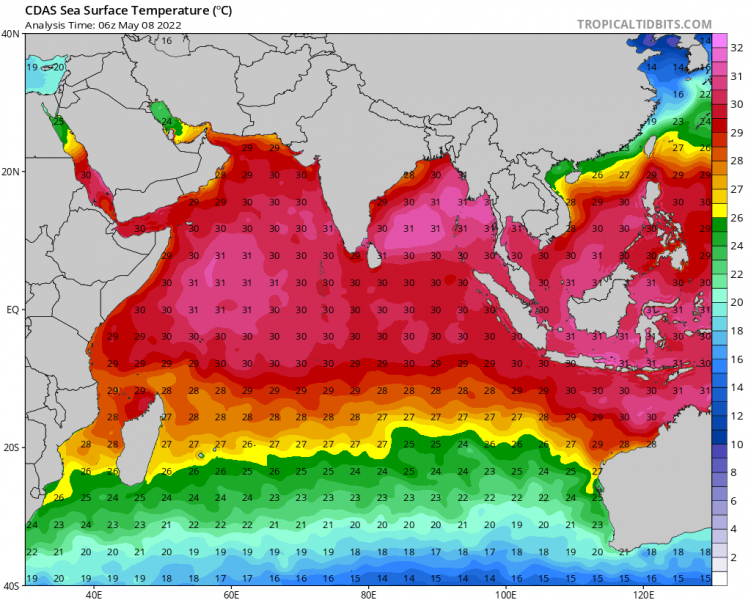 In our case, the last third of May is an ideal period for the formation of tropical conditions, which may develop into hurricanes in some cases, and this matter is attributed, God willing, to the weakness of the trade winds before the progress of the tropical belt and the beginning of the blowing of the southwest winds or what is known as the monsoons, which It is contributed by the absence of vertical shear winds during this time of the year. While the surface temperature of the waters of the Arabian Sea reaches the limits of 29-30 degrees Celsius, which means that there is an excess of thermal energy in the Arabian Sea, and if the tropical state succeeds in forming, it has thermal energy that is suitable for its development.
The "Arab Weather Center" invites you to keep up with the news issued by the weather forecast cadre, and the outputs of numerical weather models are monitored on a daily basis, and as the period approaches and if the signals are stable, Arab Weather, God willing, will publish more weather reports.
Read also:
This article was written originally in Arabic and is translated using a 3rd party automated service. ArabiaWeather is not responsible for any grammatical errors whatsoever.