Update | Wednesday 7/13, 2022 at 12:10 pm
Arab Weather - Sinan Khalaf - We follow around the clock the striking signs that some centers specialized in long-range weather forecasts have been affected by the impact of the southwestern sector of the Kingdom of Saudi Arabia with a wave of turbulence and unstable weather conditions in the last third of July Ongoing, accompanied by heavy thunderstorms.
Strong signals from the US Forecasting Center GFS
With strong rain waves affecting Jazan, Asir and Al-Baha, it may extend to Taif and Makkah Al-Mukarramah
Despite the time period, the indicators issued by the American Center for Forecasting GFS fully correspond to what was issued by the Arab Regional Weather Center in early July through its monthly bulletin, regarding the high chances of the southwestern and western highlands of the Kingdom being exposed to rain waves in the last third of July .
According to the forecast, it is expected that Jazan, Asir and Al Baha, in addition to Taif and perhaps Makkah Al Mukarramah, will be affected by the flow of air masses saturated with moisture, which will create unstable weather conditions, resulting in convective thunderclouds multiplying and heavy rains that may be high, causing the flow of valleys and torrents.
It should be noted here that this information is still preliminary and can be improved or regressed , so we advise everyone to follow up on updates first-hand to know all new about the developments in the rainy situation. .
Don't underestimate the weather!
Strong weather conditions affect human life, and require attention and appropriate measures to be taken to confront those weather conditions according to their nature. Therefore, the element of prior preparedness is an important preventive weapon to prevent disasters or reduce losses as much as possible, and the following are the most important affected sectors:
Land sector: such as the transport sector, agriculture, municipalities and private property, in addition to renewable energy projects.
Air sector: airports.
Maritime sector: such as ports, ship movement and oil installations within the sea.
The general public is also affected by torrential rain waves, as strong and torrential torrents form and the water level rises on the roads, especially the low ones. This means high chances of damage to personal and public property, and it may even lead to the closure of roads and main exits and the occurrence of detentions and deaths, God forbid. The aviation sector is also greatly affected, and it may cause losses amounting to millions of dollars as a result of diverting flights or derailing the runway due to the strong shear winds that accompany thunderstorms.
Arabia Weather provides integrated solutions for the land sector such as transportation, agriculture, municipalities and many more (click here)
Meteoweather's Innovative Automated Alarm System
Meteoweather 's early warning system issues automatic alerts to the land, sea and air sectors, and sends early notifications via a special mobile version. This system is used by many competent authorities in the Middle East, and this helps in the accurate decision-making process of the competent authorities. And before a sufficient and very appropriate period of time, it includes all weather phenomena related to the weather such as rain, fog, dust, wind, temperatures, relative humidity, and even the height of waves in the seas and oceans.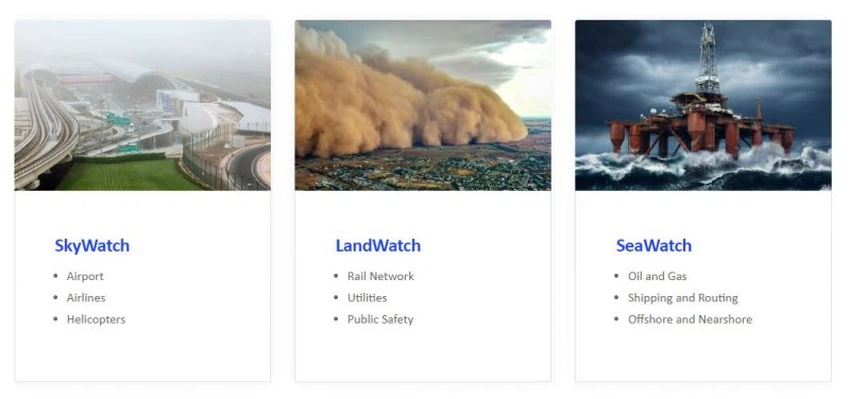 Through the advanced "Weather Watch" software, you can obtain services that help reduce losses resulting from weather conditions by providing weather information and early warning for sectors that are greatly affected by weather conditions, where those interested can communicate directly through the following link (click here).
This article was written originally in Arabic and is translated using a 3rd party automated service. ArabiaWeather is not responsible for any grammatical errors whatsoever.