Weather of Arabia - The latest weather forecast maps indicate that the Kingdom of Saudi Arabia will be affected on Tuesday evening by a cold air mass accompanying the so-called Siberian high air, so that temperatures will drop in Hail, Qassim, Medina, and the administrative north of the Riyadh region, God willing. And according to the same maps, it is expected that the effect of the cold mass will expand on Wednesday to include all parts of the Riyadh region, including the capital and the eastern region, in addition to Qatar, Bahrain and the Emirates, so that a relative drop in temperatures will occur in these countries.
And later, at the end of the week, it is expected that the cold air mass accompanying the air rise will continue to dominate eastern and central Saudi Arabia, and at the same time a gradual rise in temperatures will occur in the northwestern regions, including Tabuk, Al-Jawf, Hail, Medina and Qassim.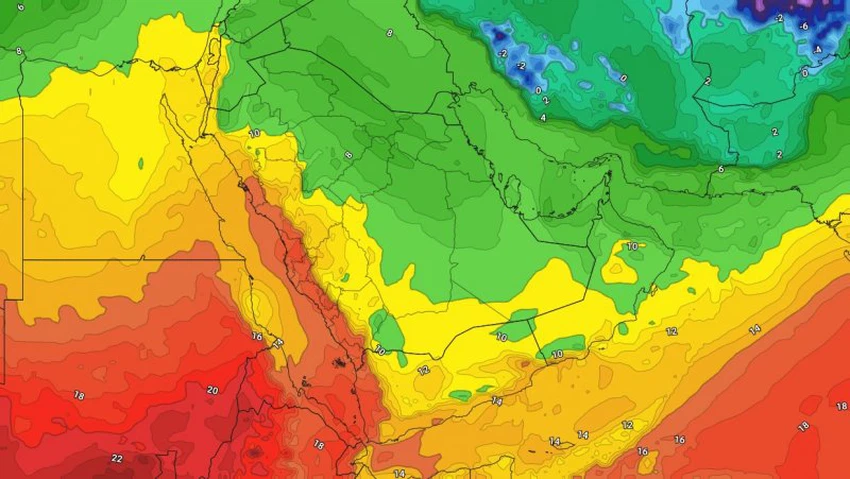 And the latest analyzed weather readings at the Arab Weather Center indicate that another cold air mass accompanying the Siberian air rise will penetrate from Iranian territory to the north of the Sultanate of Oman and the Emirates, starting from Thursday, and its effect will increase early and mid-next week, so that there will be a noticeable decrease in temperatures in Most of the regions, God willing.
It is expected that the minimum temperatures will drop to the range of (5-15) degrees Celsius in most of the main areas, while they will be less than that over the mountain heights, including Jabal Shams and Jabal Jais, below zero degrees Celsius, with the formation of frost.
God knows.
This article was written originally in Arabic and is translated using a 3rd party automated service. ArabiaWeather is not responsible for any grammatical errors whatsoever.