Arab Weather - Computer modeling maps in the Arab Weather Center indicate expectations that a cold air mass will rush into Egypt's atmosphere during the coming days, reducing temperatures remarkably throughout, with the possibility of rainy clouds condensing in some northern areas, God willing.
An air rise over the European continent for a long time.. What is the impact of this on Egypt?
Vast areas of central, western and northern European continent are still under the influence of high air in all layers of the atmosphere, and this effect is accompanied by temperatures higher than their usual rates for this time of year in those areas, and these areas are known scientifically as "anti-" areas, meaning that the state of The weather is inversely related to the weather in the Levant and Egypt, most of the time.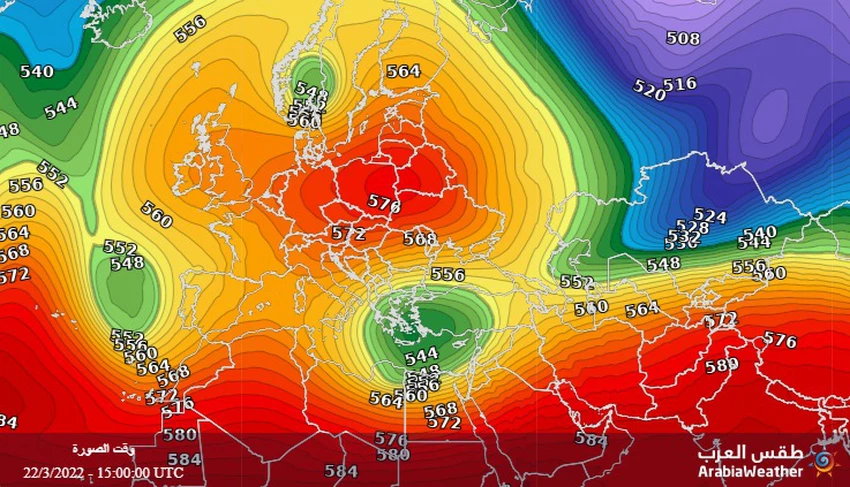 This rise in atmospheric pressure in the west and north of the European continent coincides with a rush of cold, polar air masses, from the north of the European continent, towards the Balkans, the Greek islands, and Turkey, to the eastern basin of the Mediterranean Sea. The arrival of this cold mass to those regions will impose on Egypt a colder atmosphere It's a lot more usual and it's remarkably cool.
Weather details for the current week
In the details, it is expected that this cold air mass will cause a continuous decrease in temperatures as of Sunday 20-03-2022, and its effect will increase during the current week and thus become much lower than its rates for this time of the year, and the weather will be cold in most of the major northern regions. With rain, God willing, in parts of the northern coast, Lower Egypt, Matrouh and Sinai, the winds will be northerly moderate in speed, sometimes active and raise dust and dust in some areas.
And at night, temperatures continue to drop sharply, becoming around 8-10 degrees Celsius in many major areas. The weather will be very cold and cloudy with rain, God willing, in parts of the northern coast, Lower Egypt, Matrouh and Sinai.
This article was written originally in Arabic and is translated using a 3rd party automated service. ArabiaWeather is not responsible for any grammatical errors whatsoever.