Arab Weather - Temperatures tend to rise gradually in the coming days as a result of the rush of warm air currents on the surface towards all regions of Egypt, so that the temperatures return again higher than their usual rates for this time of year.
A slight rise in temperatures on Tuesday
A slight rise in temperatures occurs, while remaining around slightly higher than their rates for such a time of the year, so that moderate weather prevails on the northern coasts, hot on the delta, Greater Cairo, central and northern Sinai, and the coasts of the Red Sea, and is very hot in the rest of the regions, and the winds will be northeasterly light To moderate speed, it is sometimes active in Greater Cairo and North Sinai, and it causes dust in some areas.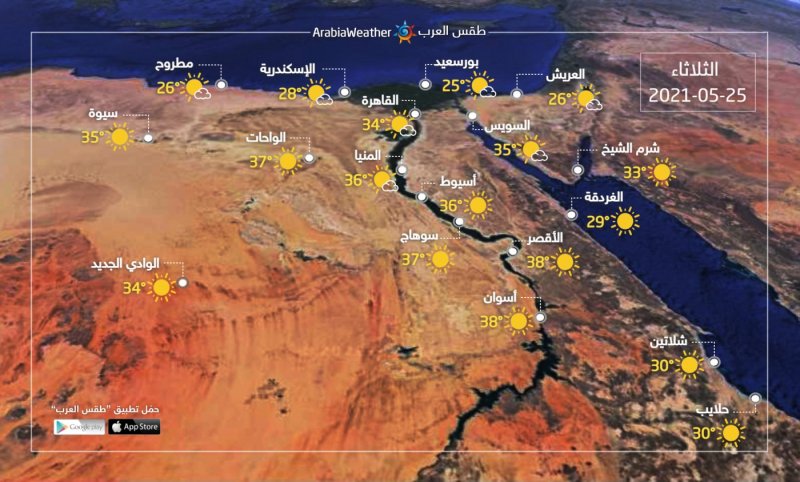 During the night hours, mild to warm weather prevails in general, and surface humidity rises and light fogs form on parts of the north and midst of the Canal and Greater Cairo, which may extend to some coastal areas.
An additional rise in temperatures from Wednesday
The latest updates refer to expectations of high temperatures starting from Wednesday across all regions, as it is expected that the weather with daylight hours will be very hot in Cairo, Upper Egypt, southern Egypt, central and southern Sinai, while it will be relatively hot on the northern coasts and the Red Sea coasts, so that the temperatures will become Higher than their rates for this time of year.
This rise comes due to the eruption of an air mass hotter than usual coming south from the Arabian Peninsula, which is working on high temperatures, as the maximum temperatures are expected to reach 37-38 degrees Celsius in the shade over Cairo, which means that it will increase with the influence of the sun.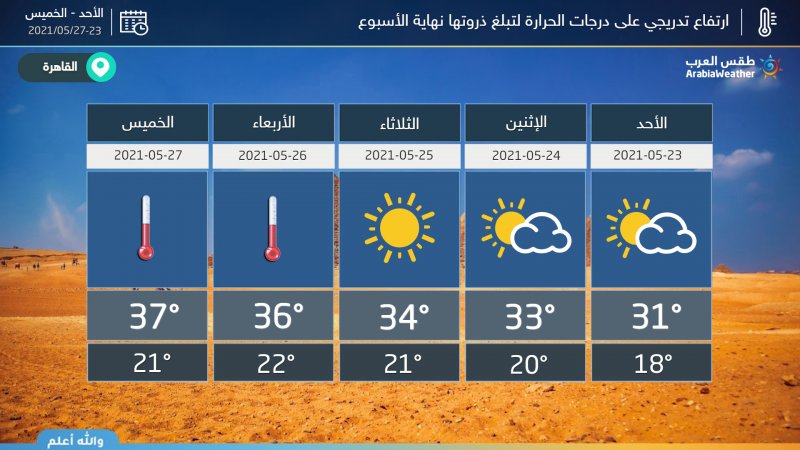 This article was written originally in Arabic and is translated using a 3rd party automated service. ArabiaWeather is not responsible for any grammatical errors whatsoever.