Arab Weather - Muhammad Owaina - It is expected that the northern parts of Egypt will be affected by a rainy weather condition that is considered the best this season in terms of the area of the affected areas after God's will on Friday and better Saturday and Sunday 20 and 21 November 2021.
If you are browsing from your phone, you can download the Arab Weather application, which provides accurate weather forecasts for thousands of regions in Egypt, click here.
Heavy rains are expected in a number of areas
Large parts of northern Egypt will be affected by the rainy condition
The first weather disturbances, God willing, begin on Friday on parts of the northern coasts and some limited parts of the delta, especially during the night hours, so that the area of rain expands after midnight Friday/Saturday hours and gradually includes most of the northern coastal areas, including Alexandria, and gradually expands the area of rain with hours On Saturday, it will cover large parts of Lower Egypt, North Sinai, and North Matrouh Governorate, God willing. The rains will be of varying intensity and sometimes accompanied by thunder. Chances of torrential rains will rise and water levels will rise on the roads in many areas, especially coastal areas.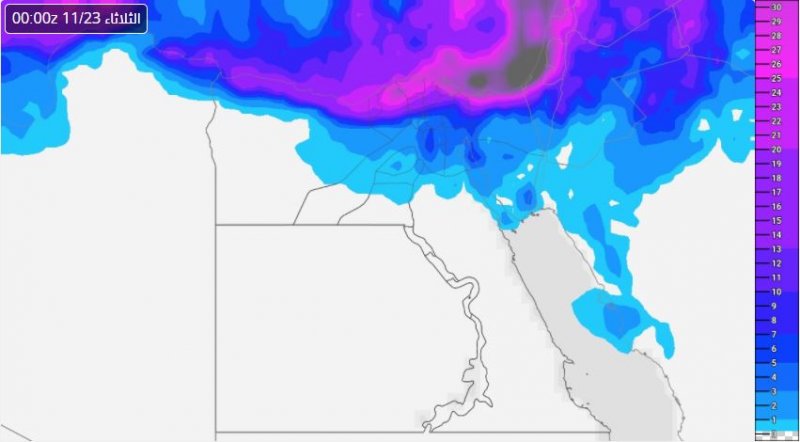 Some rain extends at separate intervals to parts of Greater Cairo, central and southern Sinai, and isolated and limited parts of northern Upper Egypt, and the rains are light to medium in most of those areas. In many northern regions.
On Saturday, it is expected that this atmosphere will be accompanied by active westerly winds, some of whose gusts reach speeds of 50-60 km/h, and sometimes bring dust and dust to the northern parts, including Lower Egypt and Greater Cairo, especially the western parts of them, and it is possible that some plankton will reach dirt towards the north of Upper Egypt.
Arabia Weather advises to follow the news issued on a daily basis to get the latest developments.
The science behind this air turbulence
These weather disturbances come as a result of the approach of an air depression in the high layers of the atmosphere to the region, in conjunction with the rush of humid and warm subtropical currents from the southwest, and the displacement of the subtropical air high from the country's atmosphere, which ensures the rule of unstable weather conditions and low temperatures in many areas. .
Recommendations from Arabia Weather:
1) A warning about the possibility of torrential rains and a rise in the water level in several areas of the north of the country, especially the coastal ones.
2) Warning against going to the Mediterranean due to the wave height exceeding three metres.
3) It is recommended to wear warmer clothes.
This article was written originally in Arabic and is translated using a 3rd party automated service. ArabiaWeather is not responsible for any grammatical errors whatsoever.