Arab weather - The weather maps and the latest updates issued by the numerical models in the Arab weather still paint a state of air instability in the republic from Thursday and will continue next week, as it is expected that many areas of northern and western Egypt will witness thunderstorms, and these details:
If you are browsing from your phone, you can download the new Arabia Weather application, which provides accurate weather forecasts for thousands of regions in the Sultanate, click here.
A cold air mass in the upper layers of the atmosphere is advancing towards the Republic
Rainy condition and air instability in many areas
In the details, atmospheric instability usually occurs when the temperature difference between the upper and lower layers becomes large, and this is what will happen when a cold air mass crosses in the high layers of the atmosphere over Egypt in conjunction with the warmth of the lower layers of the air as of Thursday, when a state of insecurity will form. Atmospheric stability is working on the reproduction of cumulus thunderstorms from northwest Egypt on Thursday to include parts of Matrouh Governorate and parts of the far south of Upper Egypt.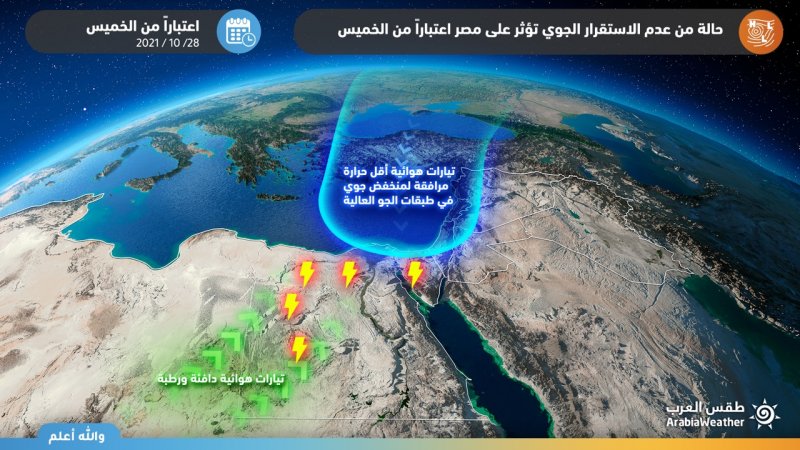 It is expected that the chances of rain will extend over the northern region of the Republic with rainy thunder clouds on Friday, where heavy thunderstorms of rain will fall on separate parts of Marsa Matrouh, Lower Egypt, Delta, Sinai, and northern Upper Egypt. To dust and dust and also may be associated with the fall of hail.
Unstable weather conditions are expected to continue to affect Egypt next week, with convective rain clouds concentrating on the western sector of Egypt, which is adjacent to the Libyan border, raising the chances of torrential rains and the flow of some valleys due to the heavy rains in those areas.
This weather condition requires warning from:
The danger of the flow of valleys and torrents in limited parts of northern and western Egypt.
Decreased horizontal visibility due to dust and dust raised from thunder clouds.
This article was written originally in Arabic and is translated using a 3rd party automated service. ArabiaWeather is not responsible for any grammatical errors whatsoever.