Weather of Arabia - Egypt is increasingly affected by the upper airspace, which guarantees the continuation of the stable weather and the survival of the hot and exhausting weather in most regions during the coming days.
Generally stable and hot weather Thursday
There is another rise in temperatures on Thursday, so that it becomes higher than its average for this time of year by 4-6 degrees Celsius, and moderate weather prevails on the northern coasts, hot on the Delta, Greater Cairo, Central and South Sinai, and the Red Sea coasts, and is very hot in the rest of the regions.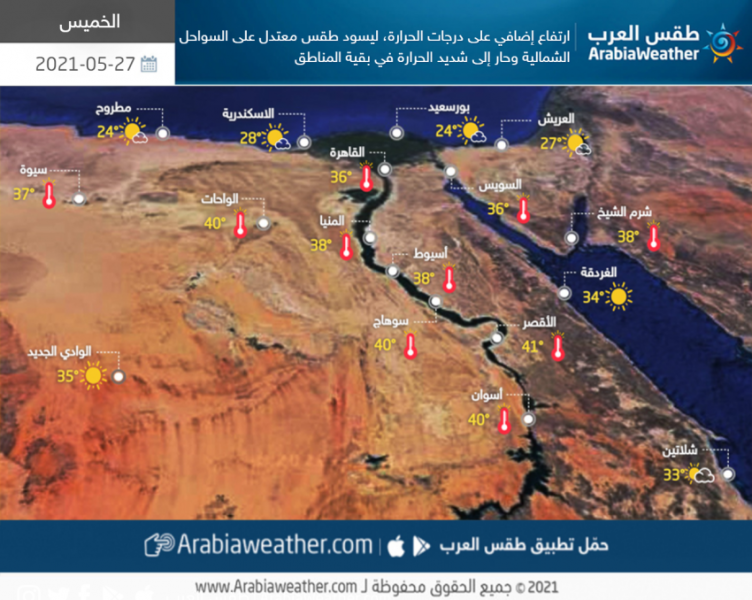 The winds will be northeasterly, light to moderate in speed, and are active at times in Greater Cairo, Sinai and Suez, and cause dust in many areas, including the capital, Cairo, and the waves are light to medium in the Red Sea and the Mediterranean Sea, which leads to the regularity of navigation movement.
During the night hours, mild to warm weather prevails in general, and surface humidity rises and water fogs form on parts of the canal cities, which may extend to some coastal areas.
The heat tends to dip slightly over the weekend
Temperatures drop slightly on Friday and Saturday, especially the northern parts of the Egyptian Republic, and the weather is generally moderate in the coastal areas, while it is very hot in the south of Upper Egypt and hot in the rest of the regions, and the winds are northeasterly moderate in speed, sometimes active and causing dust and dust. In many regions, including the capital, Cairo, however, during the night the weather is generally warm in various regions, and the humidity levels are high and water fog is formed in large parts of the northern region.
This rise comes as a result of the eruption of a hotter than usual air mass coming south from the Arabian Peninsula, which is working on high temperatures, and is associated with a remarkably dry atmosphere due to the nature of its source.
This article was written originally in Arabic and is translated using a 3rd party automated service. ArabiaWeather is not responsible for any grammatical errors whatsoever.