Arab Weather - Temperatures are expected to decrease further on Tuesday compared to previous days, to become around slightly higher than their rates for this time of year in all regions of the Egyptian Republic.
Another drop in temperatures
Generally hot weather and little chance of local showers
The temperatures drop on Tuesday in all governorates and cities of Egypt, where a moderate to relatively hot weather prevails on the northern coasts and very hot in the southern regions, while it is hot in the rest of the regions during the noon and afternoon hours, including the capital Cairo, and the winds will be north to northwest with moderate speed, They are sometimes active in the northern parts, southern Upper Egypt, and eastern Assiut, and they cause dust and dust, especially in the southern regions, and medium-altitude clouds proliferate in parts of the republic, interspersed with some thunderstorm clouds, with a generally weak chance of local showers of rain in limited parts of the Bahar mountain range Al-Ahmar, and parts of southern Upper Egypt and Sinai, while the weather is generally mild throughout the regions of the Republic at night.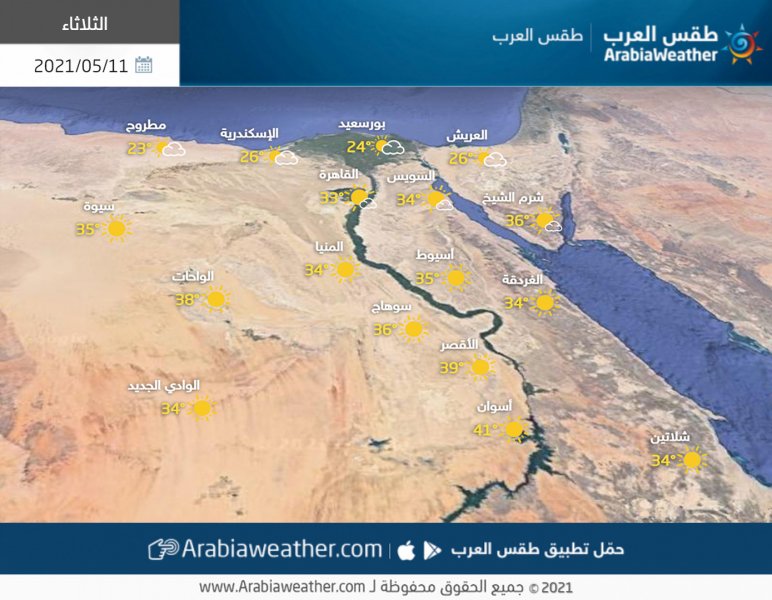 Chances of fog formation in the northern parts
After the late night hours
Fog is expected to form in the northern parts of the republic on Tuesday / Wednesday night and Wednesday morning, as surface moisture levels rise and light fog will form on parts of the northern coasts, Matrouh, Cairo and North Sinai .
The state of the Red Sea and the Mediterranean
A turbulent sea and the rising waves of the Mediterranean
The waves are moderate to high in the Mediterranean Sea and reach a maximum height of two meters, which may cause partial disruption of navigation and some marine activities , while they are moderate in the Red Sea and are suitable for navigation and most marine activities.
Important recommendations that are recommended to be taken seriously:
A set of important recommendations that must be taken seriously in dealing with such an atmosphere can be summarized as follows:
Avoid exposure to the sun, especially during the afternoon and afternoon hours, especially in the southern regions

.

Drink more cold liquids and soft drinks during breakfast hours

Be careful not to leave sterilizers and any flammable materials inside the vehicles

.

Be careful not to leave children inside the vehicles, even for a few short periods

.

The risk of a decrease in the horizontal visibility due to the dust and dust raised in the southern regions

.

Risk of additives in patients with respiratory system and eyes due to dust in the southern region

.

The risk of reduced horizontal visibility due to fog and clouds touching the earth's surface in northern regions

.
This article was written originally in Arabic and is translated using a 3rd party automated service. ArabiaWeather is not responsible for any grammatical errors whatsoever.