Arab weather - It is expected that the water mist will form densely in large areas of northern Egypt at dawn and Sunday morning, where the surface moisture levels will rise and the winds will stabilize where the conditions are suitable for the formation of dense water mist and a decrease and possibly a lack of horizontal visibility in some areas.
Areas covered by the forecast of water mist
In the details, northeast winds rush towards the Republic, passing over the Mediterranean Sea, and carrying very large amounts of moisture with calm in wind speeds and a decrease in lower temperatures. Including, in addition to parts of the Canal cities, including Port Said, which leads to a significant decrease in the extent of horizontal visibility and may be absent on the main roads connecting the governorates.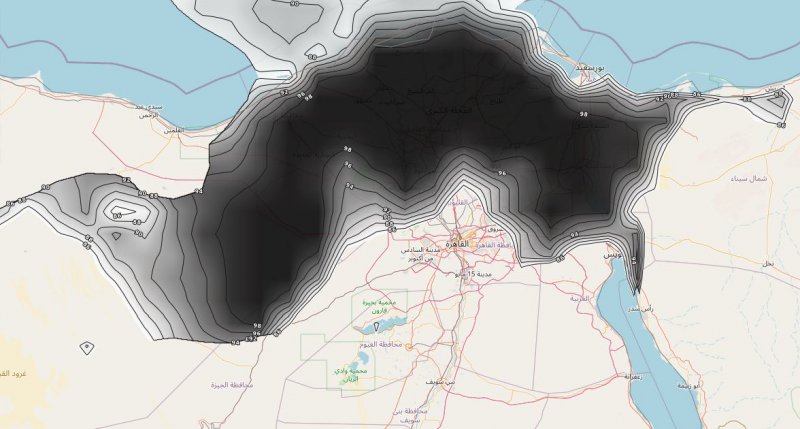 Arab weather warns, in light of this atmosphere, of low horizontal visibility and perhaps its absence in large areas, and low horizontal visibility and perhaps its absence on the main roads connecting the governorates on Sunday morning.
The reason for the formation of water mist in abundance in the summer
The phenomenon of morning fog, "Shabora", is one of the most prominent weather manifestations in the northern part of Egypt. Most of the regions of northern Egypt are characterized by their flat terrain and their proximity to a large water surface, which is the Mediterranean Sea, and therefore this means the ease of crossing the moist air masses from the sea towards the land without the presence of Any terrain obstacles such as mountains.
As the waters of the Mediterranean gradually warm up during the summer, the water evaporates from its warm surface to turn into moisture in the layers of the atmosphere, and the wet masses usually move due to the weather systems towards the Egyptian land.
This article was written originally in Arabic and is translated using a 3rd party automated service. ArabiaWeather is not responsible for any grammatical errors whatsoever.