Weather of Arabia - In conjunction with the impact of the Republic of Egypt on a heat wave and temperatures throughout the interior, semi-tropical air currents flow towards the atmosphere of the Republic of Egypt in the middle and high layers of the atmosphere, which will multiply clouds and clouds in the southern regions during Friday and Saturday, especially after hours afternoon and evening, and here are the details:
Read also:
The heat wave continues to affect the Republic, and the temperature approaches 45 degrees in some areas at the end of the week
Subtropical air currents rushing from Sudanese territory
Areas covered by the weekend rain forecast
In the details, the tropical separator rushes north in the coming days to take its location near the north of the Sudanese lands, which stimulates the rush of semi-tropical air currents towards the southern parts of the republic to intensify cumulus clouds and clouds on Friday and Saturday, especially after the afternoon and evening hours, to include rain in large parts of the areas The southern coastal areas, including Halayeb and Shalateen, and extending to the southern interior regions to include parts of Aswan, especially the southern parts of it.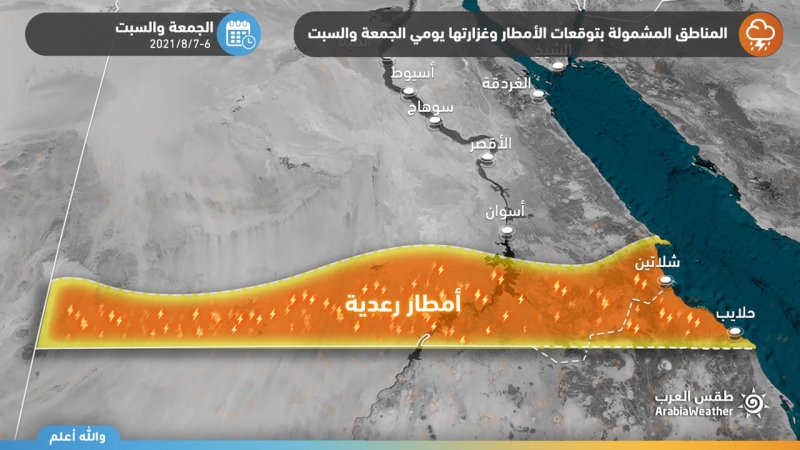 These thunderstorms are characterized as random in nature, but they are heavy at times and cause the flow of valleys and form torrents in a way that may be dangerous at times, in addition to that they are often preceded by a great activity in wind speed that may cause the formation of local dust waves.
Weather details for the next five days through the detailed bulletin
The scientific reason for the rainy state comes after the tropical separator or what is known as ITCZ rushes to the north of Sudanese lands, as with the beginning of the summer in the northern hemisphere, the trade winds move northward and take a path in the form of an eastern zigzag line, carrying with it large amounts of moisture from the tropics In the north, towards areas of high average solar radiation, which creates a fertile area for the formation of cumulus clouds that cause thunderstorms.
The Arab Weather website notes the necessity of:
Warning of the formation of torrents and the flow of valleys in parts of the south of the republic, especially in Halayeb and Shalateen.
The danger of low horizontal visibility due to dust waves in the southern parts caused by downward winds.
This article was written originally in Arabic and is translated using a 3rd party automated service. ArabiaWeather is not responsible for any grammatical errors whatsoever.