Arab Weather - The latest weather forecasts received by the Arab Weather Center indicate that Egypt is affected by air currents with higher temperatures than the past days, coming from the Kingdom of Saudi Arabia, working on a gradual rise in temperature in all cities and governorates of Egypt during the next week.
Rise in temperature from Sunday
In the details, the temperatures begin to rise gradually as of Sunday, so that the temperatures become slightly higher than their rates for this time of the year, so that the weather turns to become relatively hot in the northern coastal areas, and hot to very hot in the Lower Egypt, Greater Cairo and Canal cities until Even north of Upper Egypt, and very hot in the rest of the regions, and the temperature is expected to reach its peak at the end of the week, bringing the maximum temperatures close to the 40 degrees Celsius barrier in many Egyptian cities and governorates, including the capital, Cairo, while exceeding that in the southern parts of the republic. As a result of the expansion of the thermal depression towards those areas.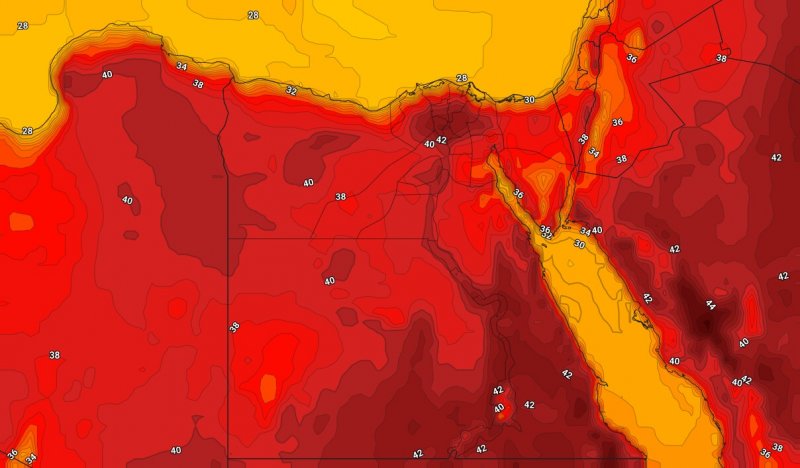 During the night hours, the weather is warm in the northern regions and relatively hot in the rest of the regions, and the relative humidity increases in the night and early morning hours on some coastal and inland regions, and the formation of daily mist is possible on a daily basis in different regions of the north of the Republic.
In light of this atmosphere, the Arab weather warns against direct and prolonged exposure to the sun, especially during the noon and afternoon hours, which may cause sunstrokes, God forbid, and the need to drink a lot of cold and hydrating fluids to replace the missing fluids from the body.
In conjunction with this atmosphere, northern winds are active on a daily basis in parts of Egypt, and they are dusty and dusty at times, which creates turmoil in the Mediterranean, and the opportunity is generally weak for local showers of rain in the far south of the Republic.
The Arab Weather team has created a detailed bulletin for the Republic of Egypt that includes forecasts for the next five days, updated on a daily basis, all you have to do is click here.
This article was written originally in Arabic and is translated using a 3rd party automated service. ArabiaWeather is not responsible for any grammatical errors whatsoever.