Weather of Arabia - It is expected that in the coming days, the whole of the Republic of Egypt will continue to be affected by the hot air mass that originally dominates the Republic.
In the details, it is expected that temperatures will continue to be around slightly above their normal rates during the weekend, so that relatively hot weather prevails on the northern coasts, while it is hot in the Lower Egypt, Greater Cairo and Canal cities, and very hot, especially during the afternoon and afternoon hours in the rest of the world. The winds will be northwesterly moderate in speed, active in the afternoon hours in some areas and will cause dust and dust in some areas.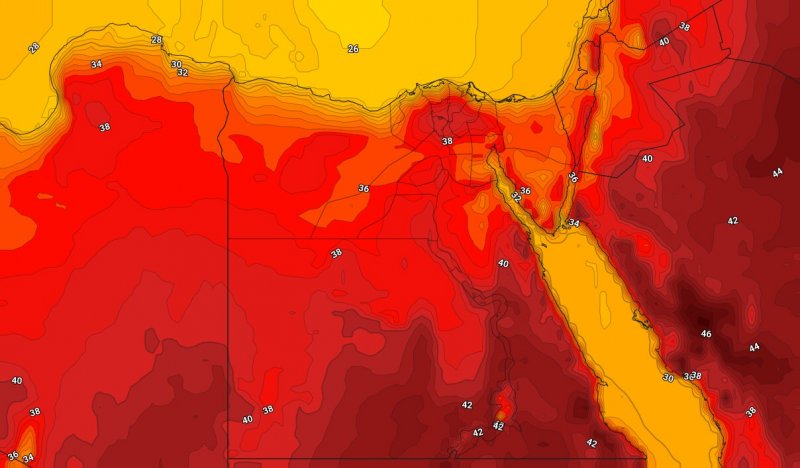 During the night hours, the weather is warm in the northern regions and relatively hot in the rest of the regions. Humidity levels rise and water mist forms on a daily basis in parts of Sinai, the Canal cities and parts of Lower Egypt, in addition to Matrouh, which may extend to some northern coastal areas.
In light of this atmosphere, the Arab weather warns against direct and prolonged exposure to the sun, especially during the noon and afternoon hours, which may cause sunstrokes, God forbid, and the need to drink a lot of cold and hydrating fluids to replace the missing fluids from the body.
Despite the hot weather that prevails in the Republic, it does not rise to what is scientifically called a heat wave, and there is no harm in recalling the definition of a heat wave, as Arab Weather clarifies the definition of a heat wave as a rise in temperatures to exceed its general rates by five degrees Celsius or more, for a period of three consecutive days At least, over a wide geographical area.
Read also:
What are the "dog days" that begin at the beginning of July
This article was written originally in Arabic and is translated using a 3rd party automated service. ArabiaWeather is not responsible for any grammatical errors whatsoever.