Arab weather - the air rise continues to dominate the country's atmosphere, ensuring stable weather and keeping temperatures higher than their normal rates, as a result of the continued rush of cold air masses west of the European continent to parts of the Maghreb, so that Egypt and the rest of the eastern Mediterranean remain away from any weather activity, and consequently the details:
Stable weather in all regions on Monday
Water mist is the most prominent weather phenomenon in Egypt
In details, temperatures continue to be higher than their average rates for this time of the year, and the weather is hot in the coastal areas, Greater Cairo and Lower Egypt, all the way to northern Upper Egypt, while it continues to be hot in southern Upper Egypt, and clouds appear at different heights in some areas. Northeasterly moderate winds, active in the afternoon, raising the concentration of dust in some areas.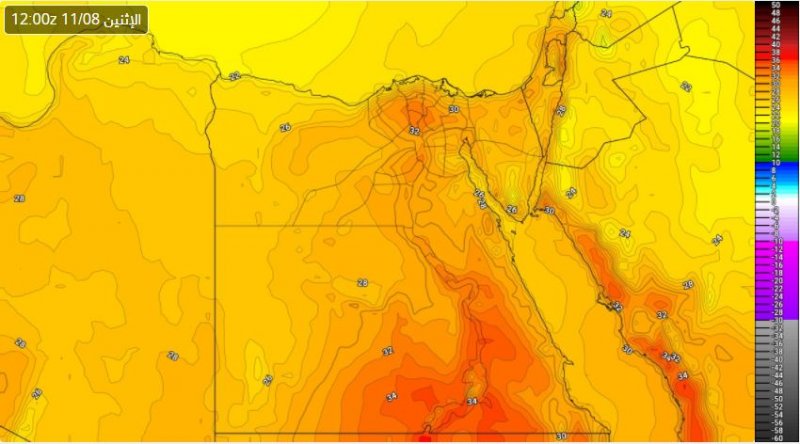 During the night hours, pleasant weather prevails in all northern regions, tends to be slightly cold during the late night hours, tends to be warm in the southern regions, and humidity levels rise and water mist is formed in parts of Lower Egypt and the western coasts, and thus visibility drops to less than 500 meters at times, and the winds will be northerly to northeasterly moderate in general.
Arab Weather warns of low horizontal visibility in parts of Lower Egypt and the western coasts, and warns motorists of the need to be careful and light the front and rear headlights while driving, and open the car windows from time to time to prevent water vapor from condensing on the car's interior glass.
The scientific reason for the stable atmosphere
This stable atmosphere comes as a result of the control of an air system that serves the western European continent, the western Mediterranean and the Maghreb countries, so that these areas witness a series of air depressions, and this is offset by the flow of warm currents to the western parts of the Arab Mashreq, including the Levant and Egypt, so that a completely dry and stable atmosphere prevails. And temperatures above normal most of the time.
So that high atmospheric pressure dominates starting from the eastern Mediterranean through the south and east of the European continent, where the regions of the Maghreb are scientifically known as the "opposite" regions, meaning that the weather condition is inversely related to the weather in the Levant most of the time.
If you are browsing from your phone, you can download the Arab Weather application, which provides accurate weather forecasts for thousands of regions in Egypt, click here.
This article was written originally in Arabic and is translated using a 3rd party automated service. ArabiaWeather is not responsible for any grammatical errors whatsoever.