Arab weather - Egypt, especially the northern parts of it, has been experiencing temperatures for several days that have turned below their normal rates amid a complete absence of heat waves, this comes as a result of the distribution of weather systems, which is in the interest of the region. A hot air mass towards the region, and these are its details:
A hot air mass emanating from the African desert
Gradual rise in temperatures in the coming days
In the details, hot air currents originating from the African desert rush, as a result of which temperatures rise from Sunday, and continue to rise on Monday and Tuesday to raise temperatures to become higher than their rates for this time of the year by 4-6 degrees Celsius, and the weather turns to become hot On the northern coasts, it is hot in Lower Egypt and Greater Cairo, all the way to northern Upper Egypt, while it becomes very hot in southern Upper Egypt, exceeding the barrier of forty degrees Celsius in the southern parts.

In conjunction with these weather, northwesterly moderate winds are active, causing dust and dust in many areas, especially the cities of Suez and the northern areas, including Greater Cairo and northern Upper Egypt, with the appearance of some low clouds in the northern areas in the morning and noon, and some clouds at high altitudes south of Upper Egypt. During the evening and night hours.
In this climate, Arab weather recommends not direct exposure to sunlight for long periods in the southern regions, and a lot of drinking cold fluids and refreshments throughout the day, especially in the southern regions.
To read the best, download the Arab Weather app, from here
During the night hours, temperatures rise compared to previous nights, and warm weather prevails throughout the northern regions, while it tends to heat in the southern regions, and humidity levels rise and water mist is formed in parts of northern and central Sinai, the cities of the Canal and the western regions of Lower Egypt. Winds are northwesterly to northeasterly moderate in general.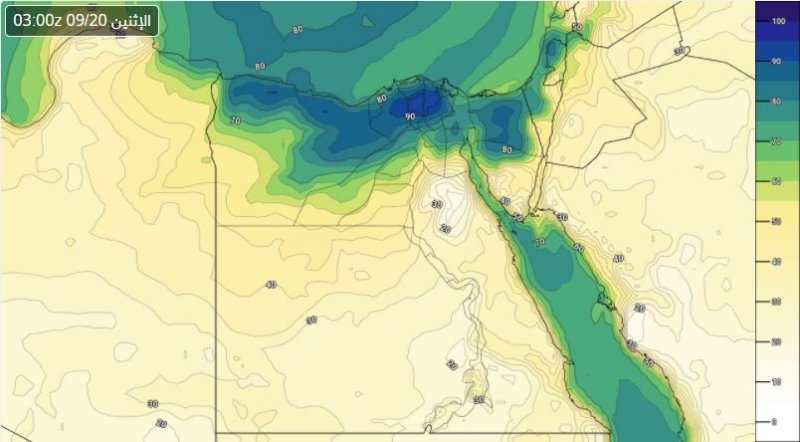 It is also expected that the water mist will be dense in some northern areas, especially parts of Sinai and Marsa Matrouh, so the Arab weather alerts the low extent of horizontal visibility and perhaps its absence in some areas due to the water mist on desert and agricultural roads in parts of northern and central Sinai and the western regions of Lower Egypt. In addition to Marsa Matrouh.
For more details via the detailed five-day bulletin, here
To find out the temperature in your area for more than 14 days, download the Arab Weather app, from here
This article was written originally in Arabic and is translated using a 3rd party automated service. ArabiaWeather is not responsible for any grammatical errors whatsoever.