Weather of Arabia - It is expected that the whole of the Republic of Egypt will be affected by a hot and dry air mass on Wednesday, which is reflected in a significant rise in temperatures, that is, significantly and remarkably.
A hot air mass is rushing towards the area on Wednesday
The hot air mass is expected to directly affect Egypt, with the maximum temperature reaching its peak on Wednesday, when it is expected to be around 40 degrees Celsius in many cities and governorates of the Republic, especially the capital Cairo, and the weather will be relatively hot in the northern coasts and hot to very hot on the The Delta, Cairo, the Canal Cities, Central and South Sinai, and the coasts of the Red Sea, and very hot over the rest of the regions.
In the same context, it is expected that the southern parts, especially southern Upper Egypt, will be under the greatest influence associated with the hot mass, with temperatures approaching 45 degrees Celsius, so the weather will be extremely hot and flaming.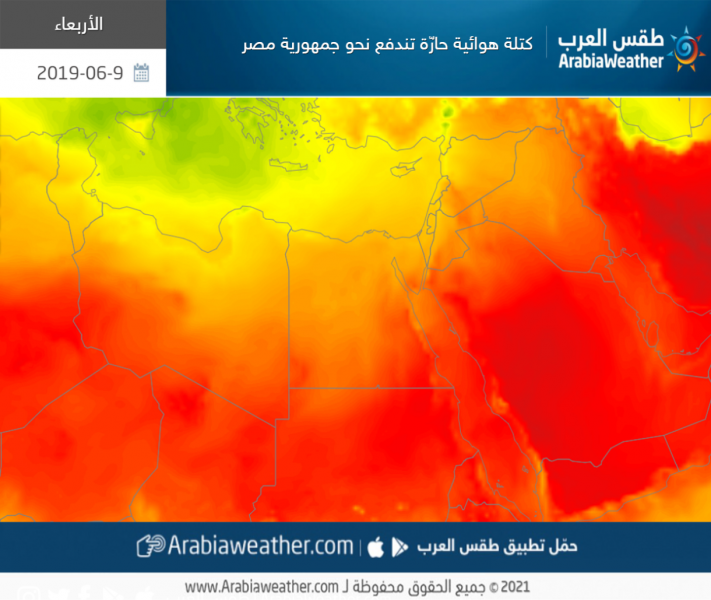 The winds are north to northeast, moderate in speed, sometimes active in large parts of Egypt, and they raise dust in many areas, especially the areas of the Gulf of Suez and northern Upper Egypt, and the waves are moderate in the Mediterranean, while they are remarkably high in the Red Sea, which disturbs the movement of navigation. and some marine activities.
When talking about the coming days, it is expected that the heat will decrease from Thursday throughout the northern region to northern Upper Egypt, while the rest of the regions will remain under the influence of the hot air mass, so that normal summer weather will prevail in most areas, and temperatures will be slightly higher than their rates. Typical for this time of the year.

This hot mass accompanies the construction of an air elevation in all layers of the atmosphere, which leads to a significant rise in temperatures and is also accompanied by an extension of the seasonal Sudan depression, which is low in temperature to affect most areas of the east, south, central and parts of the north of the country, which increases the temperatures in these areas .
Tips to keep you safe with high temperatures during hot weather
Avoid direct exposure to sunlight, especially during peak hours.
Drinking plenty of fluids and not relying on the feeling of thirst for drinking.
Do not take drinks that contain caffeine or sugar because they lead to fluid loss from the body.
It is preferable to wear light and loose clothing.
Wearing hats and sunglasses, especially for people working in the construction sector or agriculture, whose nature of work requires staying under direct sunlight for long periods.
Do not leave children in vehicles, even for a short period of time.
This article was written originally in Arabic and is translated using a 3rd party automated service. ArabiaWeather is not responsible for any grammatical errors whatsoever.