Arab Weather - The weather forecast cadre in Arab weather warned against the continuation of temperatures at forty levels in the Republic of Egypt at the end of the week, so that a flaming and exhausting atmosphere prevails in general, as a result of the flow of hot air from the Arabian Peninsula and the African desert towards the region, which ensures the continued control of the heat wave over the Republic On Friday and Saturday, here are the details:
The temperature is approaching 45 degrees Celsius in some areas
Extremely hot and exhausting weather in Egypt at the end of the week
In the details, the Republic continues to be affected by a heat wave at the end of the week resulting from a rush of a hot air mass from the Arabian Peninsula and another from the African desert, so that very hot weather prevails in the afternoon and afternoon hours in most areas, and temperatures are around 43 degrees Celsius in many Egyptian villages and cities, including In the capital, Cairo, the weather is very hot throughout the day in the southern regions, with temperatures touching 45 degrees Celsius.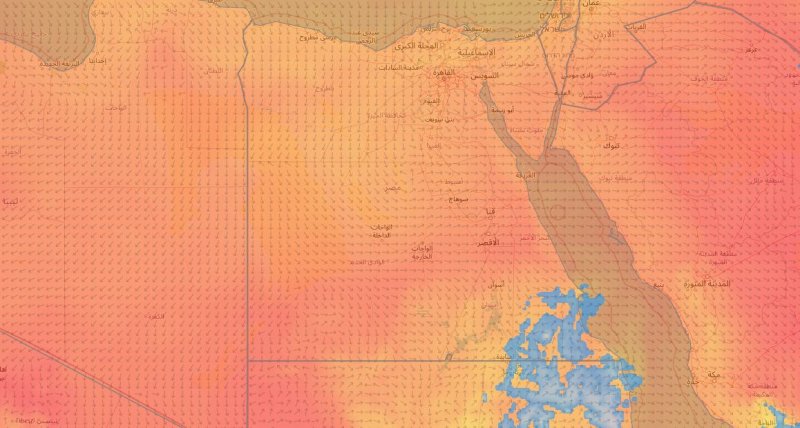 This air system coincides with a rush of subtropical air currents in the middle and high air layers, which will multiply clouds and clouds after the afternoon and evening of Friday and Saturday, accompanied by thunderstorms in parts of the far southern regions of Egypt, to include large parts of the southern coastal areas, including: This includes Halayeb and El Shalateen, and extends to the southern interior regions to include parts of Aswan, especially the southern parts of it.
Weather details for the next five days through the detailed bulletin
As for the night hours, warm weather prevails in the northern regions, and relatively hot in the rest of the regions, and clouds appear at different heights and the opportunity is prepared for showers of rain accompanied by thunder in parts of the southern regions of the Republic, as humidity levels rise and water mist is formed in parts of the north. Sinai, Lower Egypt and Matrouh, it may extend to some coastal areas.
The Arab Weather website notes the necessity of:
Warning of the formation of torrents and the flow of valleys in parts of the south of the republic, especially in Halayeb and Shalateen.
Avoid direct and prolonged exposure to the sun, especially during the afternoon and afternoon.
Avoid exerting efforts under the sun during this heat wave period, in order to avoid sunstroke.
Not to risk leaving children inside closed vehicles, as it poses a danger to their lives in light of the high temperatures.
Warning of a decrease in the extent of horizontal visibility and perhaps its absence in some areas due to the water mist on desert and agricultural roads.
This article was written originally in Arabic and is translated using a 3rd party automated service. ArabiaWeather is not responsible for any grammatical errors whatsoever.