Arab Weather - Despite the normal effect of the hot air mass on most areas of the eastern Mediterranean, the latest outputs of the numerical models operating in the Arab Weather Center indicate expectations of an intensification of the influence of the hot air mass on Egypt for the next two days, as it is not excluded that the maximum temperatures will approach In some key areas of 45 degrees Celsius this weekend.
The reason for this is due to the geographical nature that Egypt enjoyed, the source and angle of the influence of the hot air mass on the country, while the effect of the hot air mass on the rest of the eastern Mediterranean regions is normal, and not as severe as expected on Egypt.
Approaching 45°C
Very hot weather for most of the next two days
Regarding the details, a hot air mass is expected to rush from the African desert towards Egypt, which will lead to another rise in temperatures on Saturday 11-6-2022, and temperatures will become higher than their usual rates for this time of the year by more than 10 degrees Celsius. The weather is expected to turn very hot and dry in general in most areas, especially in the afternoon and afternoon hours, with temperatures around 45 degrees Celsius in many Egyptian villages and cities, including the capital, Cairo.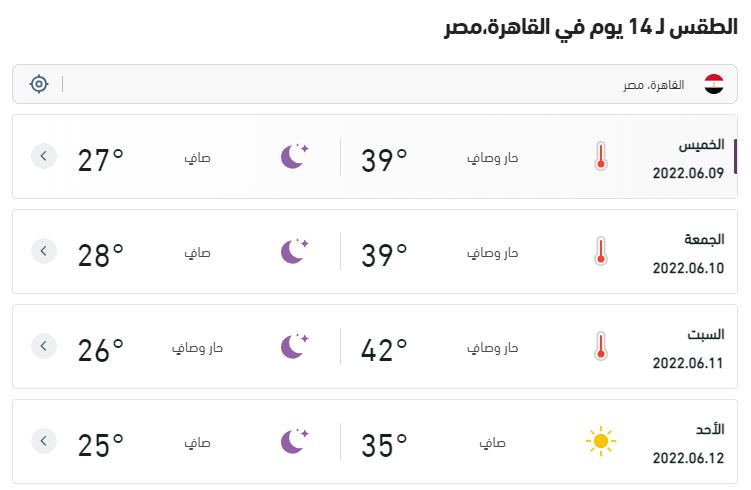 The air erosion comes as a result of expectations of a rush of less hot air from the European continent to the middle of the Mediterranean. On the other hand, in such weather patterns, a reverse state of air flow occurs, so that this flow of less hot air is accompanied by another flow of hot air in the form of a belt of hot air that extends to areas Eastern Mediterranean and Egypt and accompanying the impact of an atmospheric high in the high layers of the atmosphere.
A set of recommendations to deal with this hot weather:
Avoid exposure to the sun all hours of the day.
Drink a lot of cold liquids and refreshments after breakfast hours.
It is advised not to exert physical exertion outside most of the time.
Attention not to leave sterilizers and any flammable materials inside the vehicles.
Attention not to leave children inside vehicles, even for a short period of time.
This and God knows
This article was written originally in Arabic and is translated using a 3rd party automated service. ArabiaWeather is not responsible for any grammatical errors whatsoever.