Weather of Arabia - In a historical event considered the first of its kind, scientists planted plants in the lunar soil using samples collected during the Apollo missions to the moon, and this was the first time that plants sprouted and grew on Earth in soil from another celestial body.
This study could lay some groundwork for growing plants that provide oxygen and food on the Moon, but the experiments also reveal how stressful plants are to grow in lunar soil, which is very different from their natural habitat on Earth.
The study was published Thursday in the journal Communications Biology, and indicated that plants were used to prove that lunar samples are not harmful to life on Earth, as the plants helped prove that soil samples brought from the moon do not contain pathogens or other unknown components that are from the moon. would harm terrestrial life,
Historical samples of the moon used to grow plants
It's been 15 years since the researchers submitted their first proposal and requested lunar samples, and the request was accepted 18 months ago, with samples being made available to researchers with a total of 12 grams (2.7 teaspoons) of lunar samples collected from the Apollo 11, 12 and 17 missions.
The researchers used small plastic gaps, usually used to grow cells. The scientists filled each gap with a gram of lunar soil, added nutrients and water, and planted a few seeds of Arabidopsis thaliana, or cress, a small flowering plant native to Eurasia and Africa.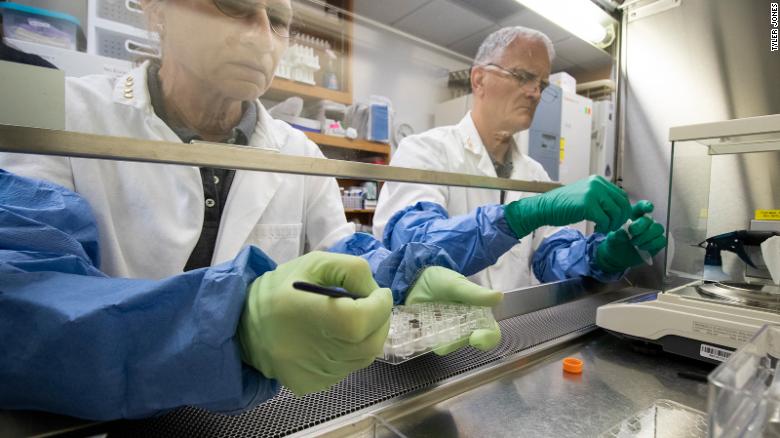 (Pictured (from left) study authors Anna Lisa Ball and Rob Ferrell of the University of Florida Institute of Food and Agricultural Sciences work with lunar soil)
This type of plant was chosen because it has been well studied by scientists and assigned its genetic code, allowing researchers to study how exotic soils affect plant gene expression. Arabidopsis seeds have also been grown in a synthetic material that mimics lunar soil, as well as volcanic ash and other ingredients from harsh environments.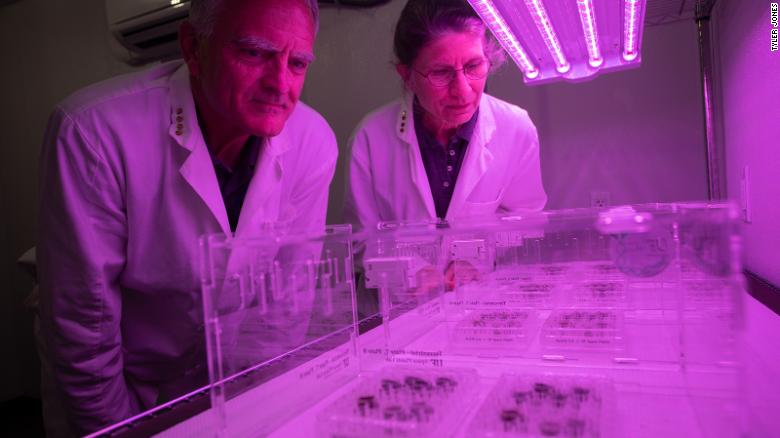 (The researchers grew the seeds under LED lights tuned to the optimal wavelengths for photosynthetic plant growth.)
To the researchers' surprise, all the seeds planted in the dark lunar soil had already germinated and started to grow.
However, Arabidopsis shoots showed signs of struggle as they adapted to the lunar soil, with seedlings being smaller, slower growing, and varying in size compared to plants grown in land soils. Plants also took longer to grow, and some lunar soil plants showed reddish-black pigments in their leaves, a sign of stress, meaning that plants view lunar soils as a stressful environment.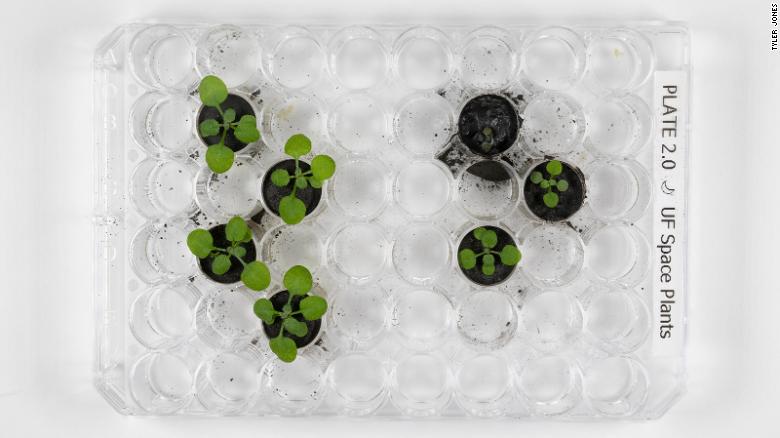 (The image shows that by day 16, there were obvious physical differences between plants grown in volcanic ash (left) compared to plants grown in lunar soil (right))
The most resistant Arabidopsis plants grown in lunar soil, turned purple in response to oxidation. This soil collected during the Apollo 11 mission was more exposed to the harsh environment of space, and the plants grown in the Apollo 12 and 17 samples seemed to fare better.
The moon's surface, which is regularly exposed to cosmic rays and solar winds, also contains iron particles and small shards of glass. All of these elements can impair plant growth.
The researchers want to conduct follow-up studies to understand how plants growing in the lunar environment might actually change the lunar soil.
"The moon is a very, very dry place," said study co-author Stephen Ellardo, assistant professor of geology at UF. "How will the minerals in lunar soil respond to having a plant grow in it, while adding water and nutrients? Will adding water make the minerals more suitable for plants?"
Additional research could also help the researchers determine the most effective way to grow plants in lunar soil and help them avoid the stressors identified during the study. The team wanted to gain a clear understanding of the nutritional value of these plants - and whether they are affected by the soil.
This is the exciting thing about science; Each new discovery leads to more unique and potentially transformative results that can then be used to help improve sustainability for future space exploration missions.
This article was written originally in Arabic and is translated using a 3rd party automated service. ArabiaWeather is not responsible for any grammatical errors whatsoever.