Weather of Arabia - A city in eastern Japan recorded today, Saturday, the highest temperature ever recorded in the country during the month of June since the start of climate records, as the temperature exceeded 40 degrees Celsius.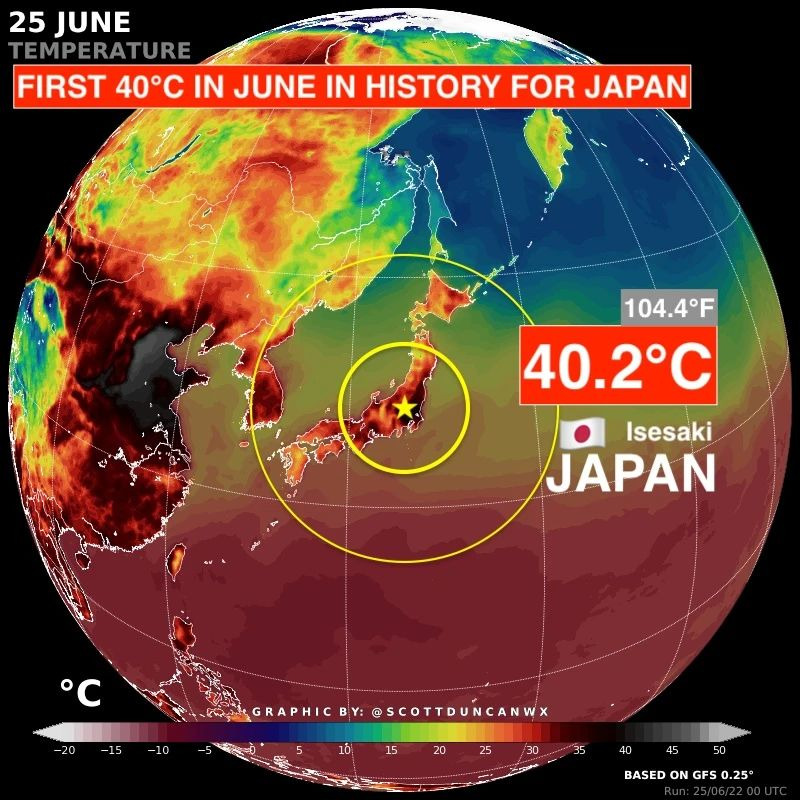 According to the Japan Meteorological Agency (JMA), the weather station in Isaki recorded a temperature of 40.2 °C (104.36 °F) on Saturday afternoon (June 25), a city located 85 kilometers (53 miles) northwest of the capital. Japanese Tokyo.
This surpassed the previous record for June in Japan, which was 39.8 degrees Celsius, set on June 24, 2011.
Another meteorological station in central Tokyo recorded 35.4 degrees Celsius earlier in the day, marking the first time since records began in 1875 that temperatures exceed 35 degrees Celsius in the capital, which is considered extremely hot in Japan.
On Saturday, the Japan Meteorological Administration (JMA) and the Ministry of Environment issued alerts for direct and prolonged exposure to the sun, warning of heat stroke in six out of 47 prefectures in the country, and recommended people to stay indoors and use air conditioners.
You may also be interested in: What is the highest and lowest temperature the human body can reach?
The scientific reason behind the early heat wave affecting Japan
Weather forecasters in Arab weather explained that the scientific reason for Japan's being affected by a heat wave is due to its being affected by a strong building of the semi-tropical air altitude, as it takes the role of a wall against any incursion of moderate-temperature air coming from the north. The upper atmosphere also contributes to the so-called "heat dome" phenomenon, which would increase the values of sinking air currents - which in turn causes air pressure in the lower atmosphere, causing an increase in temperatures.
You may also be interested in: What is the highest and lowest temperature the human body can reach?
In its latest seasonal weather forecast, the Japan Meteorological Department said that this summer will be hotter than normal years in northern, eastern and western Japan, due to factors such as global warming and the La Nina phenomenon.
You may also be interested in: In a rare event .. the La Nina phenomenon ravages the atmosphere for the third year in a row
The forecast added concern in the country, which is facing energy supply shortages due to the slow restart of nuclear power, the shutdown of thermal plants, and rising geopolitical risks after the Russian invasion of Ukraine.
This article was written originally in Arabic and is translated using a 3rd party automated service. ArabiaWeather is not responsible for any grammatical errors whatsoever.